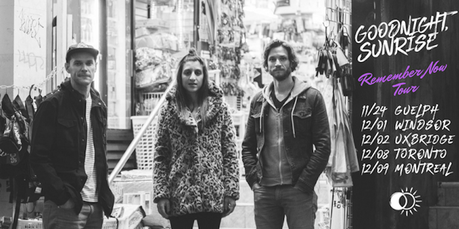 Goodnight, Sunrise, the Toronto indie-rock trio, has just released a new video and we really like it.
The band was founded in 2011 by Vanessa Vakharia and David Kochberg who both played in the Toronto-based band The Big Deal. They've released 3 EPs ( Fragments, D/V 1: Deaf Ears and D/V 2: Bridgeburner)and 2 albums ( Create/Destroy/Create and Falling Awake), had a few lineup changes along the way, but the two of them has been a constant. Add Paul Weaver on drums to the mix and you've got today's current Goodnight, Sunrise.
A little background for those of you who don't know. Dave and Vanessa started out as friends, became a couple about 2 years into the band and recently (this summer) broke up. The song Remember Now pays homage to the friendship while remembering the pain and sadness that comes with a breakup. What they've been able to do is put the band, the music and the love first, to move through it and create something new. Something whole.
The video, directed by Ryan Brough, is a compilation of live performances and candid behind the scenes shots. And like the music, it's energetic and engaging. I love the way their voices fit together, I like the driving feel and really like how well it tells the story.
Goodnight, Sunrise enlisted the help of producer Derek Hoffman (The Elwins, The Flatliners) with aim of giving the song a "joyful optimistic energy". Mission accomplished.
If you like what you hear you can see them live soon.
Upcoming Tour Dates:
Nov 24 - Guelph @ DSTRCTDec 1 - Windsor @ Phog LoungeDec 2 - Uxbridge @ Wixan's BridgeDec 8 - Toronto @ Bovine Sex Club
Dec 9 - Montreal @ L'Escogriffe
Press play and watch the video for Remember Now.