If you are a novice to digital marketing or are simply curious to learn what remarketing ads are, then this post will explain the same to in simple terms. So when you browse websites, you will often see many ad banners hosted by them, most of them are sold to third-party advertisers such as Google.
When it comes to Google ad banners, they are extremely dynamic in nature. It can fire the ad of an advertiser based on the keyword-level interest or a remarketing based firing of the ad.
What is a Remarketing Ad?
In simple terms, a remarketing ad is simply an ad that helps capture a customer who visited your site, but did not make a purchase.
Quite often, it happens that a customer would visit your site and would leave without a conversion. So a digital marketer assumes that the user landed on the site because it was or is his theme of interest. So how do you ensure that the customer who did not convert for some reason can be brought back to your site for another attempt at conversion? This is where remarketing ads are a boon to marketers.
They track who visited your site and follow them around when they browse other sites with your ads. Remarketing ads are extensively used by ecommerce sites and other product/service based websites to acquire customers who visited them but did not convert.
How does a Remarketing Ad work?
Google remarketing ads or any remarketing ad typically function based on cookies. When a user lands on a site, the site saves cookies to the users browser. So after exiting your website when the user visits other sites that run Google banners, then Google can read the cookies stored in your browser and fire accurate remarketing ads – this ad can be customized right to the level of the exact product/service page the user viewed on your site.
Additionally, many ecommerce marketers even make use of discount coupons to achieve better conversions via remarketing. This coupon would only show up to customers who visited the page and did not purchase. While other still stick to the simple banner ad if they feel a discount coupon would not dramatically improve remarketing conversions.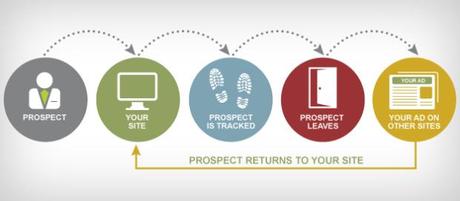 The image above is an accurate and simple representation of how a remarketing ad works. It is an excellent method to boost conversions from customers who visit your site. Look forward to hear more about this from you guys.