Unearthed After Sunset is officially available for purchase, and it will be available for 99cents on Amazon only for one more day!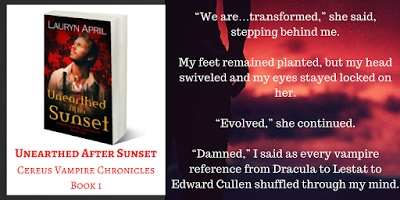 Amazon - In both paperback and kindle format
Barnes & Noble - In both paperback and nook format
Kobo - In ebook format
About the Book:

When Greg Erickson is killed by sultry and seductive vampire Lila, he wakes up cold and alone in a wooden box. After clawing his way out, he finds himself thrust into a vampire turf war, unsure of exactly whose side he's on and why he's fighting. Greg discovers that it's not easy to be human one day and hunting humans the next. While his new vampire cohorts push him to accept his newfound existence, there's one girl from his human life he's unable to forget.
Caroline Christensen lived a normal life once. Then her brother was killed by vampires and her family legacy as a vampire hunter was handed down to her. When she meets Greg at a bar one night, they both feel an immediate connection. Then Greg discovers Caroline's secret and she worries he'll never talk to her again. She soon finds out that he has a very different reason for not calling – he's dead.
Now Greg has become Caroline's target, but can she bring herself to kill him? Greg, however, isn't Caroline's only concern. The vampires are battling one another, and Caroline is determined to find out what they're fighting over.