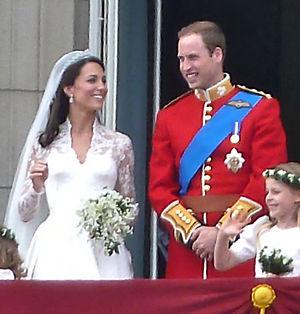 Image via Wikipedia
If there's any one group that has a hard time when it comes to relationships, it's the royals. Not only do they have to cope with celebrity status – and all of the privacy infringements that such status entails, they also have politics and religious issues to worry about. If their behavior isn't perfect, everyone in the country will hear about it.
Despite those challenges, they've had a lot of success of late. Prince William and Kate Middleton have managed to restore the image of the royals to the romantic ideals of the engagement and early marriage of Charles and Diana – with impeccable conduct throughout each stage of their relationship. The average couple may not face the same challenges as a member of the royal family, but they can still learn a lot from recent royal relationship. Here's a few things that everyone could benefit from.
Take It Slow
Don't rush into anything – whether that's moving in together, getting engaged, or getting married. Let the relationship evolve naturally, and trust your instincts. If you don't want to move to the next level of commitment yet, then don't do so. When the time is right, you'll know. Don't let anyone – be that friends, family, or even the person you're dating, push you into a commitment you aren't ready to make.
Don't Change Who You Are
If you're a sports-loving, outdoorsy type, don't change into a club going, high-end menswear fashion lover just to find a girl. If you're more into Barbour clothing than Gucci, that's fine. Keep your own interests, and look for someone that appreciates who you are. If you change to find someone, then when you find yourself again, you'll resent the relationship.
The advice to "be yourself" might be annoying if you're currently single and feeling a little lonely, but in the long term it's the best thing to do. Spend your free time pursuing new hobbies, learning new skills, and learning to be comfortable in your own skin. The happier and more confident you are, the more likely it is that you'll be appealing to a member of the opposite sex.
Ignore What Others Have to Say
When someone says "she's not good enough for you", or "she's out of your league", tell them to mind their own business. Love shouldn't stop just because you have high-end menswear in your closet and she has Primark in hers. If you work in a call centre, and she owns a Jeweller's, that doesn't matter. What matters is that you make each other happy. If other people can't see that, then that's their problem, not yours.
Treat Each Other Well
When you do find love, make sure that you treat your partner well. That doesn't mean that you have to spend a lot of money on your partner – it just means that you make time for each other, treat each other with respect, and don't cheat or mess each other around. True love doesn't come around every day, and when it does you should treasure it.
Written by Amy Fowler on behalf of Anna Davies, specialist retailers of high-end menswear and countrywear.