New to little Indiana? Subscribe for free to my RSS feed. Thanks for stopping by!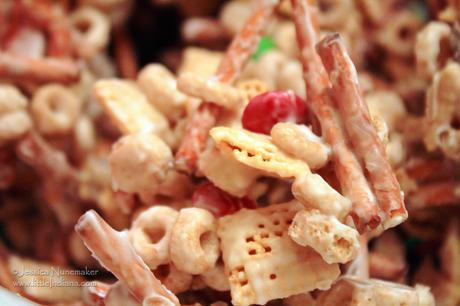 Reindeer Mix Recipe: A Christmas Food Tradition
Nothing says "Christmas" to the little Indiana family than whipping up this Reindeer Mix Recipe–and eating it!
Cheerios, M&M's, Pretzels, and Corn Chex go from "Ho-hum" to "Holy cow good!" with the addition of White Chocolate.
It is as simple as it sounds–and makes a great, easy to carry snack for any large gathering.
Reindeer Mix Recipe
Print Reindeer Mix Recipe
Does this recipe have a beginning? I've still got my handwritten copy from when I had to call my mother to get it my first Christmas away from home!
Ingredients
5 Cups Cheerios
5 Cups Corn Chex
1 lb M&M's
10 Oz Pretzels
12 Oz. Almond Bark
5 T Veggie Oil
Instructions
Combine dry cereal ingredients.
Melt Almond Bark with Veggie Oil according to package directions.
Quickly pour over dry cereal. Mix
Set out onto wax paper to dry.
Break apart pieces to chunk it up.
Store in covered container.
Schema/Recipe SEO Data Markup by ZipList Recipe Plugin2.0
http://littleindiana.com/2011/12/reindeer-mix-recipe/
Photos are the Property of little Indiana. Do Not Use Without Permission.
little Indiana: Where to Stay, Play, and Eat in Small Towns in Indiana. Discovering Indiana's best small towns!Now get little Indiana on your Kindle.
Targeted. Relevant. Affordable! little Indiana advertising!