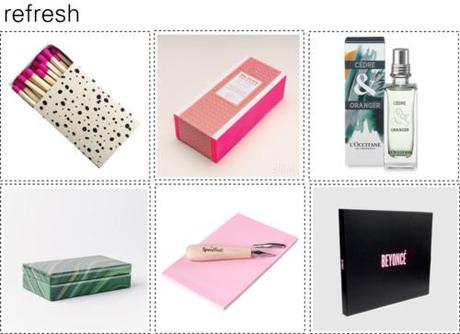 refresh: 2014 by fleur-d-elise featuring West Elm
January is always the month I feel most like doing a little "Spring cleaning" and life organizing. It's one of the best times to do it, since crummy weather tends to keep me trapped indoors. Out with the old and in with the new, or at least I rearrange things so they feel new and fresh. Here are a few of my favorite items for refreshing your daily routine:
1. Spots Matchboxes - $12 for a set of 6Lighting a candle is a great way to chase away the Winter blues. Stylish, patterned matchboxes make the ritual all the more aesthetically rewarding. 
2. Elum Big Stack Note Bar - $24This notepad may be giant, but it's far from cumbersome. It'll be the anchor of your desk and the neon pink is capable of brightening up an entire room.
3. L'Occitane Cèdre & Orange Eau de Toilette - $75This smells almost exactly like a certain Hermès perfume I love, but costs much less. It's woodsy and warm without being sweet. Sophisticated and subtle.
4. Agate Jewelry Box - $49A jewelry box should be treated like a piece of furniture. It should add to a room, not clutter it. This striking box is made by pressing an agate pattern into glass. I love the malachite green, as much as ever, and have made 2014 the year to add more of it to my life.5. Speedy Stamp Kit - $13.50It's always a great time to pick up a new hobby. I've decided to start making my own stamps and it turns out it's way easier than I thought! They don't have to be complicated or perfect, and are a fantastic way to add personal touches to stationery, tote bags, even linens! Pinterest is full of tutorials and design ideas.6. Beyoncé - $16If you're short on funds and/or time then maybe some new music is what you need. This CD is flawless and I may be just a little obsessed. Spend an evening watching the DVD that comes with it, then make sure to load the CD onto your iPod. Queen Bey is the perfect workout partner!♠