There once was an old man from New Hampshire. No, this isn't a limerick. He was famous enough to get his face on the state quarter, back when they were doing that state quarter thing. Then he fell. The Old Man of the Mountain was no more. We like to see ourselves in stone. On a trip with my wife and a couple of friends in my post-grad days in Edinburgh, we were driving around the Isle of Skye. The largest of the Inner Hebrides, the island has a mysterious natural beauty. One of the most famous monuments on Skye is the Old Man of Storr. Postcards always show it to be a rock pillar jutting up by itself at the base of a mountain. As we approached the old man from the north, I got the joke. My friends still dispute it, but if you look at the mountain crest above the pillar, it forms a perfect profile of an old man's face. Then what is the rock pillar? It's just the right distance from the old man's face to be, well, you get the picture. I'm convinced that those from Skye laugh at all the tourists taking a picture of the old man's naughty parts.
The technical term, as I've discussed before, for seeing that which isn't really there is pareidolia. Some people call it matrixing. Our brains, wired to see other people, often see them where they don't exist. The Old Man of the Mountain formed a passable human face before the rock face collapsed in 2003. This past week I read an article in the Washington Post of the collapse of Duckbill, a rock formation in Oregon's Cape Kiwanda State Natural Area. Like many cases of pareidolia, this rock pillar was only seen as a duck by those whose brains make the connection. People like to go see that sort of thing. It makes us feel less alone.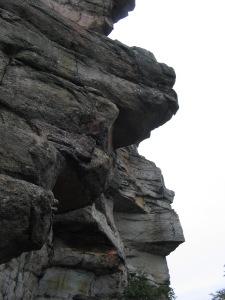 Do you see it?
The article by Cleve R. Wootson Jr., however, points out that Duckbill didn't jump. He was pushed. A group of eight guys, caught on video, rocked the pillar until it toppled. This is why we can't have nice things. The deliberate destruction of monuments is a crime, and the culprits are being sought. Make Way for Ducklings, the Robert McCloskey children's classic, was cast in bronze in Boston's Public Garden. In 2009 vandals stole one of the ducklings, which was quickly replaced. It's difficult to understand the mentality of those who wish to destroy our duckbilled friends. Yes, Duckbill was only rock. No, I never had the chance to see it. As long as the Old Man of Storr lies recumbent in the Scottish highlands, however, we will have grounds to wonder.