by Conroy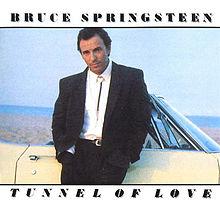 "There's a crazy mirror showing us both in 5-d / I'm laughing at you, you're laughing at me / There's a room of shadows that gets so dark brother / It's easy for two people to lose each other, in this tunnel of love"
– Bruce Springsteen, "Tunnel of Love"

Bruce Springsteen surely ranks as one of the most successful and admired musicians of the rock era [1]. His career has been a rare combination of immense popularity and critical adulation, and he's been doing it for 40 years. In fact it's the very scope of his career and the enduring airplay of his biggest hit songs (not to mention his reputation as a colossus of arena-rock), that can obscure the fact that Springsteen was capable of startling artistic turns. It's been 25 years since one of these turns when he released what has become an overlooked album, a forgotten masterpiece, Tunnel of Love.
Ask fans or critics to identify Springsteen's best album and they're likely to say Born to Run, Born in the U.S.A. or even The River. Few, I suspect, would choose Tunnel of Love. Springsteen developed a pattern of alternating between "big" accessible albums with smaller more intimate ones. He followed Born to Run(1975) with the darker Darkness on the Edge of Town (1978); The River (1980) with the down-right bleak Nebraska (1982).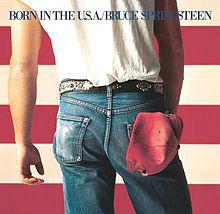 But Springsteen roared back after that album, becoming a rock god, The Boss, after releasing the immensely successful album Born in the U.S.A. (1984) [2] and enjoying its immensely successful follow-up tour. Born in the U.S.A.was, among other things, an anthemic and exciting album. That's why it sold so well. And naturally there was tremendous anticipation for the follow-up. When he delivered Tunnel of Love in 1987, I doubt many fans could have anticipated the sound or subject matter. Rather than traffic in the same blend of power rock, Springsteen did a 180, turning inward and stripping his music down, almost entirely removing the E Street Bandfrom the recording sessions. He turned from the social and political to the personal and introspective. It's a startling [3] 12 tracks.
Above and beyond anything else, Tunnel of Love is an album about love and doubt and marriage and disappointment. Or what I like to term a divorce album. Befitting its subject matter, the music is mostly subdued and lyrics dwell on failed marriage and love. While this may seem like a recipe for dour listening, Springsteen's evocative lyrics paint stark pictures and his music while stripped down remains haunting. In many ways the album is a cousin to U2's Achtung Baby, which is also a divorce album, and no less compelling for it.
I think you have to be a little careful when considering autobiography in an artist's work, but in the case of Tunnel of Love, Springsteen's personal life may well have inspired his art. He married actress Julianne Phillips in 1985 during the Born in the U.S.A. tour. A newly married man in his mid-30s, a mature Springsteen seemed to find disappointment instead of happiness. And it's hard not to connect an album full of tracks about failed love with the experience of his recent marriage. Consider that it was during the Tunnel of Love tour [4] that he separated from Phillips and began his relationship with E Street Band back-up singer Patti Scialfa [5].
This personal history is worth remembering when listening to the album. Here's a track-by-track review:
"Ain't Got You" sets the albums tone with Springsteen's a rhythmic, country-twinged vocals backed by a spare guitar. The lyrics focus on a musician, indistinguishable from Springsteen, awash in wealth, luck, and luxury, but lacking love. The opening verse says it all:

"I got a fortune of heaven in diamonds and gold / I got all the bonds baby that the bank could hold / I got houses 'cross the country honey end to end / And everybody buddy wants to be my friend / Well I got all the riches honey any man every knew / But the only thing I ain't got honey I ain't got you."

Tougher Than the Rest and All That Heaven Will Allow
The song is clever and a bit funny, and its longing leads directly to the second – and standout – track, "Tougher Than the Rest." A slow ballad backed by an insistent drum-bass line and a mild synthesizer drone (this is still a mid-80s album after all) the lyrics show hope for true love: "Well if you're looking for love / Honey I'm tougher than the rest." But a hope full of compromise:

"Well 'round here baby / I learned you get what you can get / So if you're rough enough for love / Honey I'm tougher than the rest," and "Well it ain't no secret / I've been around a time or two / Well I don't know baby maybe you've been around too / Well there's another dance / All you gotta do is say yes."

"All That Heaven Will Allow" carries on much in the same musical and lyrical vein, but the compromise isn't with love, but with circumstance. This is the last time on the album that belief in love triumphs over all: "Rain and storm and dark skies / Well now they don't mean a thing / If you got a girl that loves you / And who wants to wear your ring."
Spare Parts, Cautious Man, and Walk Like a Man
The albums falls from its tenuous hope on the next three tracks. "Spare Parts", a country-rocker that tells the story of a man who runs out on his pregnant fiancé. "Cautious Man", the album's sparest track, is a somber ballad of a loner who battles his demons and his desire to walk away from his wife. Then there is "Walk Like a Man", another slow ballad, that sounds like a message to Springsteen's father conveys the sentimentality and hope attached to marriage:

"I remember ma draggin' me and my sister up the street to the church / Whenever she heard those wedding bells / Well would they ever look so happy again / The handsome groom and his bride / As they stepped into that long black limousine / For their mystery ride."

Tunnel of Love
Having firmly established a grim and soul-addled mood, Springsteen speeds up the music with one of the album's best tracks, "Tunnel of Love." The title track is awash in synthesizer (it's easily the most musically robust track) and jangling guitar. It also introduces the albums central metaphor, comparing love and relationships to a funhouse ride, it's worth quoting at length:

"Fat man sitting on a little stool / Takes the money from my hand while his eyes take a walk all over you / Hands me the ticket smiles and whispers good luck / Cuddle up angel cuddle up my little dove / Well ride down baby into this tunnel of love/
I can feel the soft silk of your blouse / And them soft thrills in our little fun house / Then the lights go out and it's just the three of us / You me and all that stuff were so scared of / Gotta ride down baby into this tunnel of love/
There's a crazy mirror showing us both in 5-d / I'm laughing at you you're laughing at me / There's a room of shadows that gets so dark brother / It's easy for two people to lose each other in this tunnel of love/
It ought to be easy ought to be simple enough / Man meets woman and they fall in love / But the house is haunted and the ride gets rough / And you've got to learn to live with what you can't rise above if you want to ride on down in through this tunnel of love."

Two Faces and Brilliant Disguise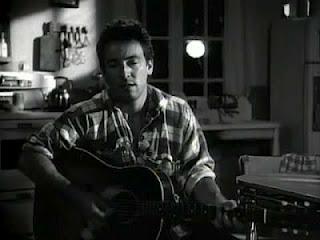 Springsteen in the "Brilliant Disguise" video
The pace slows again the music fades back for "Two Faces", a ballad about a man at odds with himself, deeply conflicted about his love, his marriage, and his motives. These lyrics and themes lead the way to the album's best track, and one of Springsteen's best ever songs, "Brilliant Disguise." It is a brutal examination of a disintegrating marriage, and its gorgeous melody, acoustic guitar, and synthesizer is a perfect complement to the lyrics. Again, quoting at length:

"I hold you in my arms as the band plays / What are those words whispered baby just as you turn away / I saw you last night out on the edge of town / I wanna read your mind and know just what I've got in this new thing I've found / So tell me what I see when I look in your eyes / Is that you baby or just a brilliant disguise/
I heard somebody call your name from underneath our willow / I saw something tucked in shame underneath your pillow / Well I've tried so hard baby but I just can't see / What a woman like you is doing with me / So tell me who I see when I look in your eyes / Is that you baby or just a brilliant disguise/
Now look at me baby struggling to do everything right / And then it all falls apart when out go the lights / I'm just a lonely pilgrim I walk this world in wealth / I want to know if it's you I don't trust cause I damn sure don't trust myself /
Now you play the loving woman I'll play the faithful man / But just don't look too close into the palm of my hand / We stood at the alter the gypsy swore our future was right / But come the wee wee hours maybe baby the gypsy lied / So when you look at me you better look hard and look twice / Is that me baby or just a brilliant disguise/
Tonight our bed is cold / I'm lost in the darkness of our love / God have mercy on the man / Who doubts what he's sure of."

One Step Up, When You're Alone, and Valentine's Day
The album continues with another stand-out track, "One Step Up," which features another gorgeous melody and acoustic guitar, and conveys the end of an unfixable relationship:

"It's the same thing night on night / Who's wrong baby who's right / Another fight and I slam the door on / Another battle in our dirty little war / When I look at myself I don't see / The man I wanted to be  / Somewhere along the line I slipped off track / I'm caught movin' one step up and two steps back."

The album's penultimate track is "When You're Alone" a spare acoustic ballad of the desire for loneliness over a long-since-soured relationship. And the closer is "Valentine's Day," a final slow ballad that contemplates the complications of love and commitment and ultimately settles for an imperfect union: "So hold me close honey, say you're forever mine / And tell me you'll be my lonely valentine / Lonely valentine."
Tunnel of Love reminds me of some other pieces of contemporary art, the films Days of Heaven and Blue Valentine, the aforementioned Achtung Baby and Jason Isbell's self-title first album, parts of the Anthony Burgess' novel Nothing Like the Sun, and the "Letters from Zedelghem" section of David Mitchell's Cloud Atlas. It's not optimistic, in many ways barely hopeful, but it is human, and a deep listen.
Critical Accolades
Tunnel of Love certainly doesn't enjoy the lasting prominence of several other Springsteen albums, but it has gather critical recognition, earning glowing praise from critics, both at the time of its release and as the years passed. Rolling Stone magazine counted the album among the best of the 1980s and indeed all time. A reputation well earned and hopefully one that will only grow stronger.
---
NOTES:
[1]Certainly by this writer.
[2]An album that featured the hit title track, "Dancing in the Dark", "Glory Days", "I'm on Fire", "My Hometown", and "No Surrender," to name only the tracks that are still played with regularity on rock radio.
[3]If often stark.
[4]Officially named the Tunnel of Love Express Tour, it featured a highly stylized routine, which was far different than Springsteen's early (and later) tours that featured sprawling physical sets. A bit of this stylized performance can be seen in the official music video for "Tougher Than the Rest."
[5]A relationship that resulted in his second, much longer, and successful marriage (1991-present), which produced three children.