From Bowen Island Brewing now brewed in Kamloops by Kamloops Brewing Company comes their "Reef Break Hemp Blonde". The beer pours an amber colour with an off white head. The aroma consisist of caramel and floral hops aromas but not much else. The flavour is of caramel, sugary, fruit, herbal hops but very little hops bitterness. The alcohol content comes in at 5% with an IBU of 14. I find this blonde a bit on the sweet side but that is just a personal preference.
Commercial Description: Light, refreshing and full of flavor. This hemp infused blonde ale is medium-bodied with a creamy mouthfeel, light floral aromas and caramel notes with a subtle hemp finish.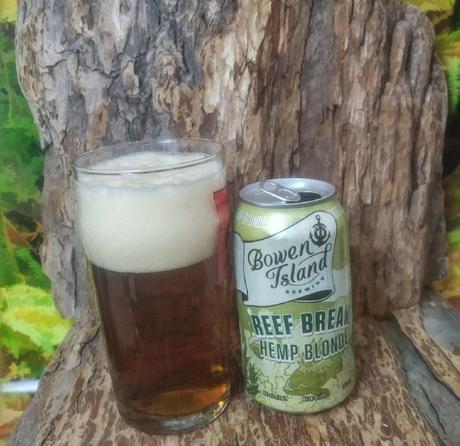 This entry was posted in Blond Ale and tagged Blonde Ale, bowen island brewing, caramel, craft beer, fruit, herbal, herbal hops, kamloops, kamloops brewing, low bitter, low bitterness, reef break hemp blonde, sugary.