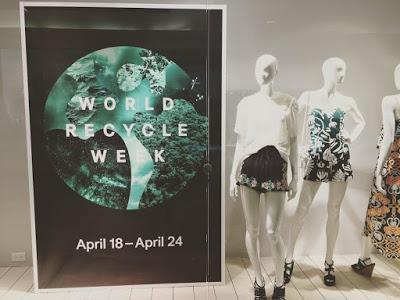 World Recycle Week | H&M, Featuring M.I.A 
If you're looking for a new way to contribute in a positive manner this Earth Day than look no further.
I've discussed closet clean ups many times here on Nothing 2 Wear. Of course you can bag up your unwanted, ill fitting, worn out clothing and send it to one of those large dump boxes at the side of the road, OR you can head over to the mall (no complaints there) and drop off your unwanted clothing at any H&M, every day this week!
During World Recycle Week , April 18-24, H&M aims to collect 1,000 tonnes of unwanted or worn out garments worldwide. Their intent is to use your recycled textile fibers for new H&M products. To further raise awareness of this initiative H&M has teamed up with recording artist M.I.A. who wrote the song 'Rewear it' exclusively for the Earth Week campaign. Check out their teaser video here...

If you need some motivation, or you're wondering why recycling your textiles is a good idea, here are some facts...
- The average lifespan of a piece of clothing is only 3 years.
- The average American throws away about 70 pounds of clothing, shoes and other household textiles every year.
- Americans generate almost 13 million tons of textile waste per year.  Brits generate about 1.12 - million tons of textile waste a year.
- One in four American women own seven pairs of jeans, but only wear four of them regularly.
- The textile recycling industry creates around 17,000 jobs, in the U.S alone!
It appears that H&M has been paying close attention to statistics such as these, and has taken serious steps towards supporting a most sustainable fashion brand. Recently they released their sustainability report which revealed that the company has increased their use of sustainable sourced materials to 20%. Specifically they are sourcing more organic cotton, recycled cotton and Better cotton. This brings H&M much closer to their goal of only using sustainable cotton by year 2020.
I have mentioned H&M Conscious before, but its worth mentioning again of course with Earth Day right around the corner. With the Conscious line H&M aims to "Provide fashion for conscious customers, choose and reward responsible partners, be ethical, be climate smart, reduce, reuse, recycle, use natural resources responsibly, and strengthen communities." You can learn more about H&M and their Sustainability platform HERE, including the results of the full sustainability report.
Also, check out these styles from the current H&M Conscious Spring/Summer Line..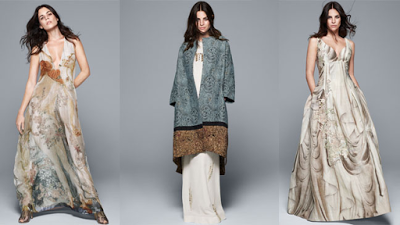 Will you be taking part in Earth Day festivities this week?  What do you do in your own closet to prevent textiles from going to waste?