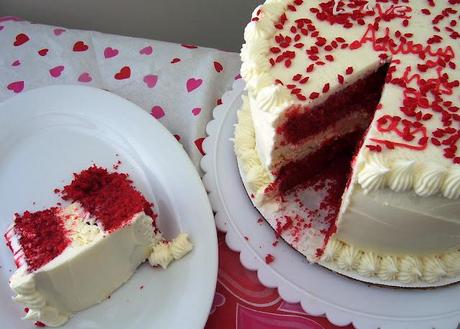 This cake has been remade many times before, and to tell you the true I've never had The Cheesecake Factory's version of this cake.

 

But I've always thought this cake spoke the words Valentine's Day.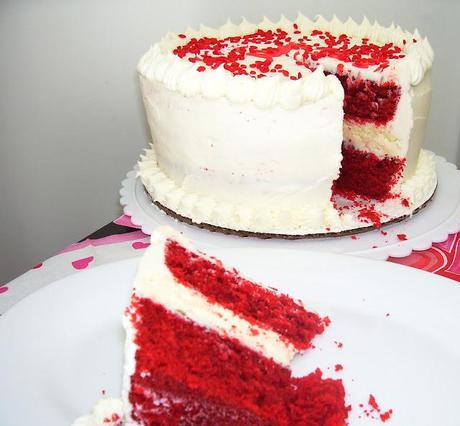 I saw this cake for the first time in early January on Recipe girl, I was looking at her Chocolate cheesecake cake and she linked back to this cake.
As for the Red Velvet Cake, I used my favorite recipe found here. I followed Recipe girl's recipe for the cheesecake layer (found below).
Very delicious cake, but I'm SO glad it's not staying at my house.
I do recommend this cake for you and yours as you celebrate Valentine's Day this Tuesday.
Enjoy
J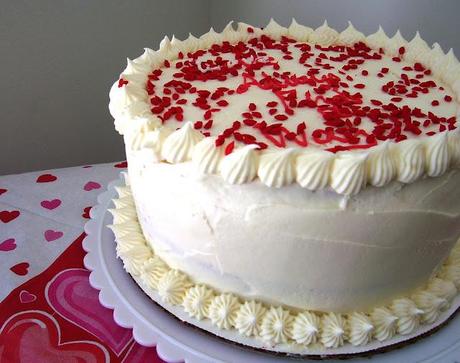 Cheesecake Layer
Ingredients:
16 ounces cream cheese at room temp.
2/3 cup of graulated white sugar
pinch of salt
2 large eggs
1/3 cup sour cream
1/3 cup heavy whipping cream
1 teaspoon vanilla extract
Directions:
Pre-heat oven to 325 degrees F.
Spray a 9-inch springform pan with nonstick spray and line the bottom with a round of parchment paper. In a large bowl, mix the cream cheese until smooth and creamy. Mix in sugar and salt, blend for about 2 minutes. scrape down sides of the bowl. Add eggs, one at a time, blending after each.
Mix in sour cream, whipping cream, and vanilla. Mix until smooth.
Pour into pan and bake the cheesecake for 45 minutes. Let cool for about an hour and then place the cheesecake in the freezer and let the cheesecake freese completely. I let mine freeze overnight but this can be done over serveral hours.
Assembling the cake:
Place one cake layer on a cake board. remove cheesecake from the freezer, and remove from the pan, peel off the parchment paper. Shave off some of the cheesecake if the cheesecakes comes out larger than the cake or vice versa. Place the cheesecake on top of the cake layer and the 2nd cake layer on top of the cheesecake. Ice the cake with a layer of icing (crumb coat) and place in the freezer for about 30 minutes. After the 30 minutes add a 2nd coat of icing to the cake and design to your liking.
*Keep cake refrigerated. *
as stated in post, recipe for red velvet cake and cream cheese icing can be found here.