Its been a while I set aside Sat for ME time.  I was invited to a baking demo organised by S and since hub was free to be the uber dad, I had the chance to attend.
This is my second time attending such session.  I like it as it is informal and just a bunch of people gathering together to share.
For the first session, it was a lemon cake that I have yet to attempt on my own.  I guess I will try that soon and blog about it another day.
In the meantime, here is the Red Velvet Cupcake that was shared.  I changed the frosting as I prefer something less sweet.
Come to think about it, it has been ages since I last bake cupcakes.  Luckily those liners are still good to use.
Overall, this is a nice recipe.  Thanks T for the demo.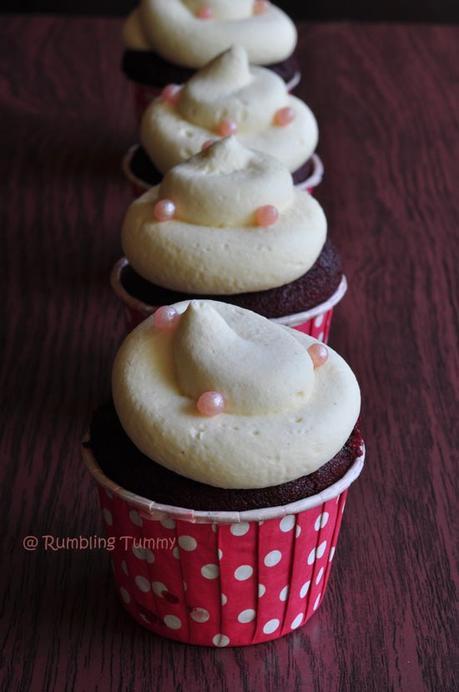 Findings: The texture is light and fluffy.  We really like it.
What you need
160g plain flour2 tbsp cocoa powder½ tsp baking powder½ tsp baking soda¼ tsp salt57g unsalted butter150g castor sugar184g buttermilk1 egg1 tsp vanillared food colouring (to adjust)
Cream Cheese Frosting
250g full-fat cream cheese, softened to room temperature100g unsalted butter, softened to room temperature50g icing sugar10g milk1 tsp vanilla extract
Method
Preheat oven 180°C.  Prepared muffin tray.
Sift in the plain flour, cocoa powder, baking powder, baking soda and salt.  Set aside.
Cream butter and sugar until it is creamy and light.
Add in the egg and vanilla and beat to combine.
Alternate flour mixture in 3 additions and buttermilk in 2 additions.
Add in red food color to the desired shade.
Scoop batter into muffin mold until ¾ full.
Bake for 18 – 22 mins or until cooked.
Frostings
Beat cream cheese and butter until creamy.
Beat in icing sugar until light and fluffy.
Add in milk and vanilla and continue to beat until combine.
  
If you have enjoyed this post by Rumbling Tummy, be sure to follow this Rumbling Tummy on Facebook, Instagram, Pinterest, Twitter and Google+.