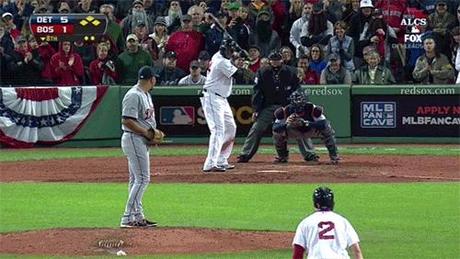 Last night was awesome, well at least the last half hour was awesome.  For the first 2 hours, Max Scherzer owned the Red Sox.  I was not happy about how this series was going and then the Red Sox did what they have done all season:  The got on base, moved runners along and then left it up to the big fella, Big Papi to supply us with the drama.  When Papi went Grand Salami that game was pretty much over for the Tigers.  Sure they could have come out, but Uehara threw 8 straight strikes, got three outs and made that half of an inning incredibly quick so that the Red Sox bats could get back to business.  Love the resiliency of this team even when I'm sitting on my couch feeling dejected about what I'm watching.  Even when it looked like they had all forgotten how to hit, they somehow got it done.
Those last two innings completely change the complexity of this series in my opinion.  Sure it's just one game, but up until the 8th inning of game 2, the Red Sox looked like JV.  Now they've got their swagger back just in time to face another CY Young winner in Justin Verlander.
Plus, Erin Andrews – #Goldenshower like you read about.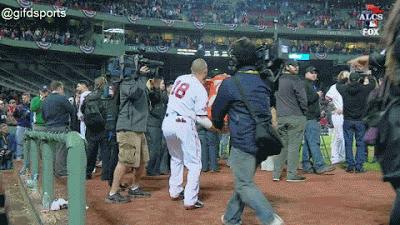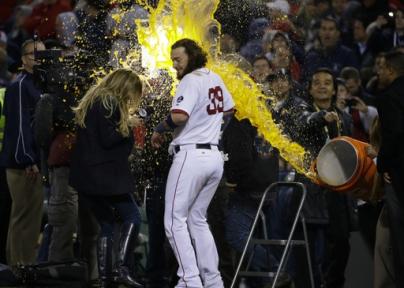 Boston Red Sox's Jarrod Saltalamacchia is sprayed with sports drink during an interview after Game 2 of the American League baseball championship series against the Detroit Tigers Sunday, Oct. 13, 2013, in Boston. The Red Sox won 6-5. (AP Photo/Matt Slocum)
" data-orig-size="512,365" title="Jarrod Saltalamacchia" data-image-title="Jarrod Saltalamacchia" align="left" data-orig-file="http://bmore2boston.files.wordpress.com/2013/10/gs1.jpg" height="288" width="404" data-medium-file="http://bmore2boston.files.wordpress.com/2013/10/gs1.jpg?w=300" data-image-meta="{"aperture":"0","credit":"AP","camera":"","caption":"Boston Red Sox's Jarrod Saltalamacchia is sprayed with sports drink during an interview after Game 2 of the American League baseball championship series against the Detroit Tigers Sunday, Oct. 13, 2013, in Boston. The Red Sox won 6-5. (AP Photo\/Matt Slocum)","created_timestamp":"1381708029","copyright":"","focal_length":"0","iso":"0","shutter_speed":"0","title":"Jarrod Saltalamacchia"}" data-large-file="http://bmore2boston.files.wordpress.com/2013/10/gs1.jpg?w=512" />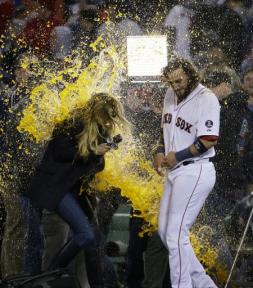 Boston Red Sox's Jarrod Saltalamacchia is sprayed with sports drink during an interview after Game 2 of the American League baseball championship series against the Detroit Tigers Sunday, Oct. 13, 2013, in Boston. The Red Sox won 6-5. (AP Photo/Matt Slocum)
" data-orig-size="450,512" title="Jarrod Saltalamacchia" data-image-title="Jarrod Saltalamacchia" align="left" data-orig-file="http://bmore2boston.files.wordpress.com/2013/10/gs2.jpg" height="288" width="253" data-medium-file="http://bmore2boston.files.wordpress.com/2013/10/gs2.jpg?w=263" data-image-meta="{"aperture":"0","credit":"AP","camera":"","caption":"Boston Red Sox's Jarrod Saltalamacchia is sprayed with sports drink during an interview after Game 2 of the American League baseball championship series against the Detroit Tigers Sunday, Oct. 13, 2013, in Boston. The Red Sox won 6-5. (AP Photo\/Matt Slocum)","created_timestamp":"1381708029","copyright":"","focal_length":"0","iso":"0","shutter_speed":"0","title":"Jarrod Saltalamacchia"}" data-large-file="http://bmore2boston.files.wordpress.com/2013/10/gs2.jpg?w=450" />
I think I pretty much summed it up last night:
Did Erin Andrews just catch a golden shower? #redsox #alcs #gatoradeshower

— Ethan Percy (@ceboscuit) October 14, 2013