For those of you who are on Facebook (isn't that like the whole world these days?), you can now catch me every day at The Remy Report FB page.
Recently, I was chatting with John O'Rourke, who is good friends with Jerry Remy and runs his official site, The Remy Report, and the Facebook group of the same name.
John was kind enough to ask me if I would like to send him a Red Sox "Fact of the Day" type of thing for the Facebook group. I thought that would be fun, so John will post it there every morning for Red Sox fans to check out. It is called "The Remy Report: Today's Baseball Fact."
It will be facts from all aspects of Red Sox history, and also from MLB history from time to time. Here was my first Red Sox fact from earlier this week: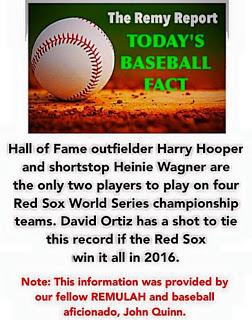 Please note that The Remy Report on Facebook is actually a closed group, so you will have to request to join it. But that shouldn't be a problem. I look forward to sending in a cool Red Sox fact every day, and my thanks to Jerry Remy and John O'Rourke for allowing me to be a part of their group.