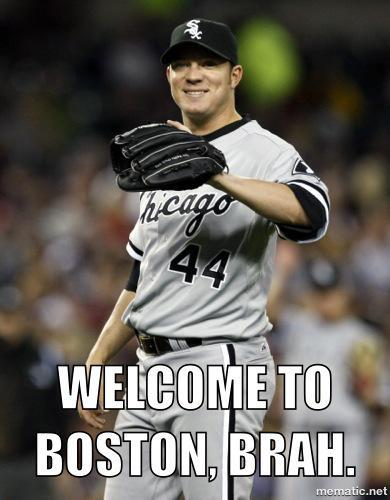 Here's the deal as it stands this moment -
Red Sox receive Jake Peavy from the White Sox
White Sox receive Avisail Garcia from the Detroit Tigers
Detroit receives Jose Iglesias from the Red Sox
Count me in as on board with this trade.  I like Iglesias but he's a glove first shortstop whose average has been slowly heading south since his solid start.  I don't think Boston misses him too much with Middlebrooks available and Xander Bogaerts not too far away.
What we get is a solid number two who can sling it.  If this guy stays healthy, he immediately boosts this teams staff.  I mean you're essentially replaces our #5 guy with Peavy.  If the Red Sox can get Buchholz healthy, their rotation is pretty damn solid.  Plus you've got this guy for another year or two depending on whether or not you pick up his option in 2015.  In baseball you can never have too many arms.
Good night to be a Sox fan.