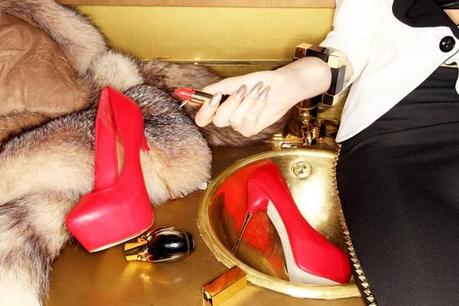 Spikley by Madden pictured above
Don't Put Away Your Red Pumps
You kick off your red pumps, sniff your roses and nibble on the last truffle from the heart-shaped chocolates tin; It's official, Valentines Day is over. I want to encourage you to keep your pumps within arm's reach because on March 10th you can wear them again for a great cause –  National Women and Girls HIV/AIDS Awareness Day.
Red Pumps for a Great Cause
The Red Pump Project raises awareness of the impact HIV/AIDS has on women and girls. Every 47 minutes, a woman or girl will be diagnosed with HIV/AIDS in the United States alone. Wearing red pumps on March 10th will symbolize your support for the red pump project and make others aware of the issues impacting our women and girls. It's a chance to wear those pumps again, but more importantly it's a chance to spread the word about this event and what it stands for.
Post Pump Pics – Say That 3x!
Don't forget to submit pictures of yourself wearing red pumps to the Red Pump Project fan page on Facebook. You can also post pics on Instagram and Twitter. Just remember to use hash tag #RocktheRedPump.
Can't wait to see everyone rocking their red pumps!