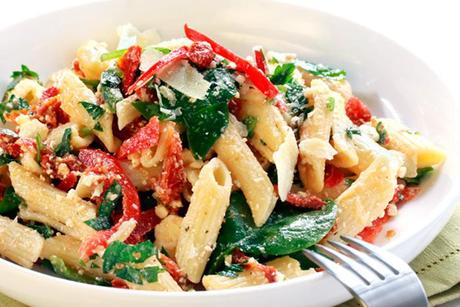 Ingredients:
4 red bell peppers,
200 gr Feta cheese,
400 gr penne (or other short tube pasta),
1 bunch fresh basil leaf,
1 small bunch of parsley,
3 tablespoons fresh lemon juice,
3 tablespoons olive oil,
1 tablespoon of Parmesan shavings,
Fresh ground black pepper,
Salt.
Preparation:
Bring to a boil hot water adding to it 1 tablespoon of olive oil and 1 teaspoon of salt. Add the pasta and cook al dente. Drain and cool to room temperature.
Pre-heat the oven. Slice peppers into very thin strips lengthwise. Place strips in a large dish add one table spoon of olive and toss well. Roast the peppers for 30 minutes or until soft. Remove from oven and set aside.
In a large serving bowl whisk together the remaining olive oil and the lemon juice. Add the peppers strips and pasta, toss well and set aside for at least 30 minutes in the fridge.
Stack the basil leaves on top of one another  and slice . Roughly chop the parsley. Once the salad is cold enough toss the basil and parsley leaves. Add crumbled feta cheese and Parmesan shavings. Season with salt and pepper.
For 4 persons.
Style: Mediterranean.
Difficulty: Easy.
Preparation time: 40 minutes.
Cooking time: 55 minutes.