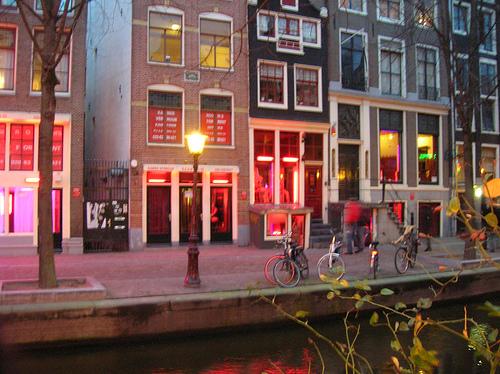 Michela Simoncini / Flickr Creative Commons
Yeah, yeah, drugs are legal in the Netherlands. How many times have you heard that one?
Well what about the other things that are legal in the Netherlands. You know, like prostitution.
Here's how legalized prostitution works in the Netherlands.:
To be a sex worker, you must be at least 18 years old and a legal citizen of the European Union.
The rooms are rented out to the sex workers. Those who rent the rooms have no other connection to the girls themselves or their employer.
Sex workers are frequently monitored, tested, and held up to professional standards.
A sex worker's union and specialized police protection are on hand to make working in the Red Light District as safe as possible.
I shouldn't have to tell you that Amsterdam's famed Red Light District is a must-see on everyone's list. And with good reason.
There's plenty to see in the District: peep shows, a sex museum, brothels, sex shops, and, of course, the ladies behind the crimson-lit windows. You've also got a plethora of excellent restaurants and pubs, nice little shops that have absolutely nothing to do with sex, typically Dutch gabled houses lining gorgeous historic canals, and a church.
That's right. A church. In the Red Light District. The Oude Kerk is a gothic church founded in the year 1213. It also has the distinction of being the oldest parish church as well as the oldest building in the city.
Known among the Dutch as the rosse buurt, the Red Light District's official name is De Wallen.
If you're headed for the District, there are two important things you should know
It is prohibited to take video or photographs of the girls. This is strictly enforced.

Despite a strong police presence and 24-hour surveillance, pickpocketing is an issue in this area (throughout Amsterdam, in fact).
Even with tight regulations in place, there are instances of women being forced to work as well as human trafficking. If you have any questions about this or prostitution in the Netherlands in general, or you just want to have an informed tour of the place, please stop by the Prostitution Information Center, located near the Oude Kerk.
In this video from Dutch advertising agency Duval Guillaume Modem, the "sex workers" of Amsterdam's Red Light District go wild in the hopes of drawing attention to and raising awareness of human trafficking. Watch all the way to the end... it will blow your mind.
© 2013, Amsterdam City Tours Blog. All rights reserved. On republishing any part of this post, you must provide a link back to this original post