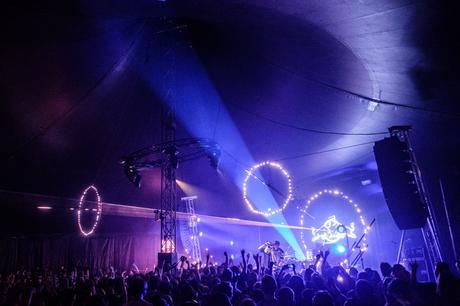 Internet sensation Yung Lean had the crowd in a frenzy.
The Distortion festival in Copenhagen is one of the largest music events of the year, and once again I had the pleasure of shooting the Red Bull Music Academy stage at the Distortion Ø festival for the wonderful people in Red Bull Denmark. In this two part blog post I will try and take you along for the ride. In this first post I cover day 1 – Friday – including which gear I brought (featured at the end of the article).
Preparations
I have shot this event for years and have a good idea what I need to do and what to expect so the main preparations here for me are prepping all the gear and then I always look at youtube videos of all the artists. Some of the artists I have not heard before and I am very interested in what they play – and I must admit, there is also the simple thing of I want to know what the artists look like before meeting them.
This event is huge and it is a massive help to be 2 photographers working together. Fortunately my magic better half, Charlene, worked the gig with me. We usually split the task, I am mostly on stage, that is where I like to shoot, and Charlene is the hardcore one of us, she is in the pit most of the time battling the tough conditions there. It always works really well,  we end up with a whole that is far greater than the sum of the parts.
I take music photography super seriously, it is my main passion in photography and I fortunate to also have it as a job. I really need to perform at a top level, not get tired and make some pictures I can be proud of – so I am a bit nervous on the day itself, like a fighter before the game. I listen to music, I do my yoga routine, ask Yoda for wise guidance and cook a nice healthy meal before leaving for the gig. I try to keep the day clear of everything else so I can be focused on the job ahead.
Friday – first drum beat
Danish artist Kasper Bjørke kicked off the event on the beautiful Friday summer night with his funky mix of house, disco, electro, tech-house and techno. I really like Kasper's sets and it was the perfect music to get things moving.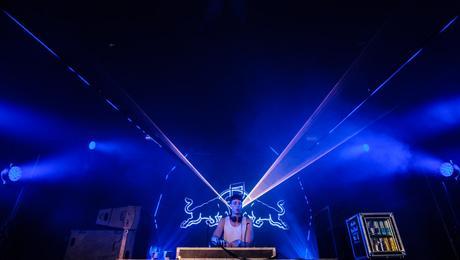 Kasper Bjørke performs his party trick: lasers shooting out his ears!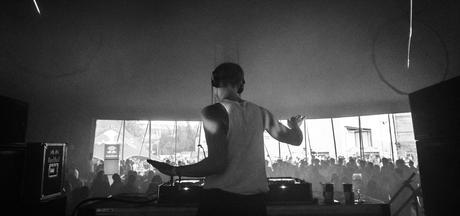 Kasper Bjørke brings the boogie!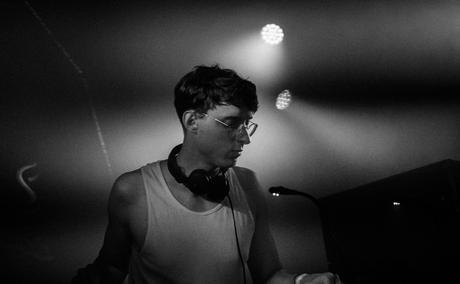 Kasper Bjørke
What followed was one of the biggest surprises of the festival – Ata Kat from Ghana. When I say I listen to the artists beforehand I could not actually find much about Ata Kat, so I had no idea what to expect. Their tunes are quite simple, actually the beat is almost the same in every song, but Ata Kat performed with such incredible joy, love of music and charisma, that the tent was filled with smiling dancing people in no time. Not only that, they were the most graceful and friendly people, smiling and thanking everyone backstage after the show. It was a little slice of magic in the midst of all the loud chaos. Writing this now and googling Ata Kat some more I come across the amazing story of how the founder of Awesome Tapes from Africa spent 12 years tracking down Ata Kat.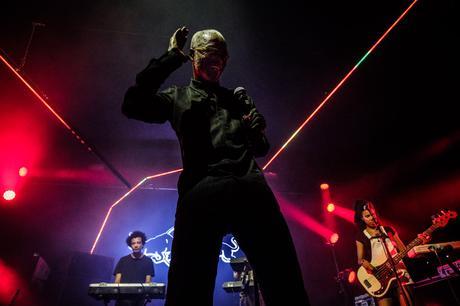 Ata Kak was one of the nicest, most polite and funkiest artists I have met. I dislike shooting artists from this low angle, but there is not much choice in a small pit.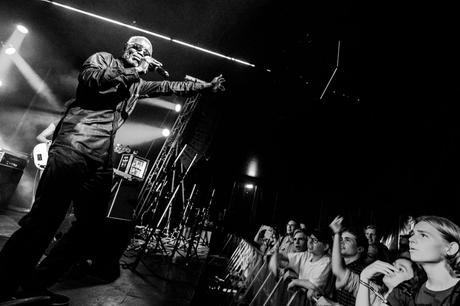 Ata Kak really struck a chord with everyone.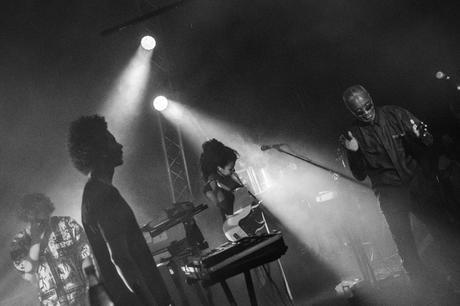 Ata Kat really brought happiness and funkyness to the night.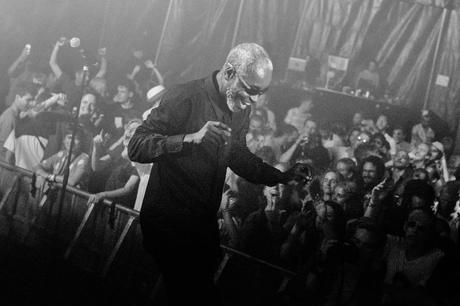 Ata Kak won the heart of everyone in the tent.
I think the entire audience was swapped out during the changeover as a younger, incredibly devoted group rushed into the tent to get a spot at the front of the stage to worship their hero – Swedish hiphop artist Yung Lean. I only knew them by name and from watching a few Youtube videos. It is not my favourite style of hiphop – you could almost call this punk-hiphop – but they did do a very powerful and dynamic show that their many fans went completely nuts about. It was a good challenge to photograph as well. Lean may be Yung but has a fair bit of story to him already as evidenced in this Fader article.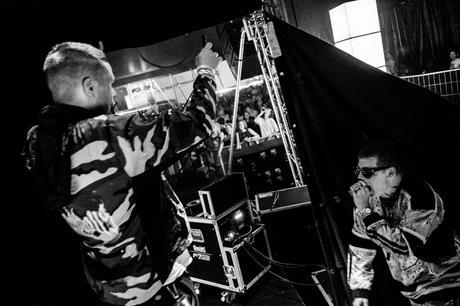 Yung Lean hits the stage in full force.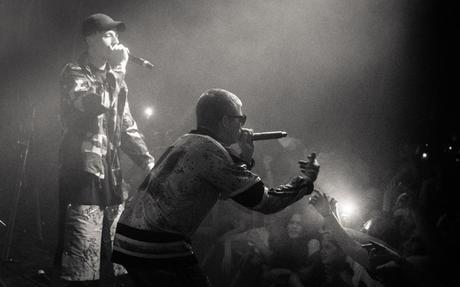 The crowd was ecstatic from the first Yung beat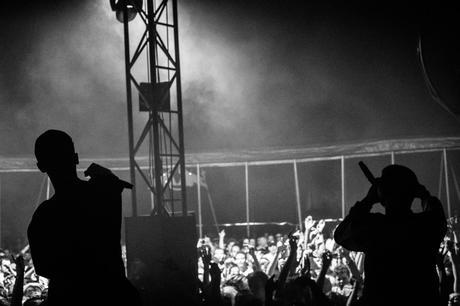 Yung Lean and an excited crowd (and not so exciting tent pole, arrghhh)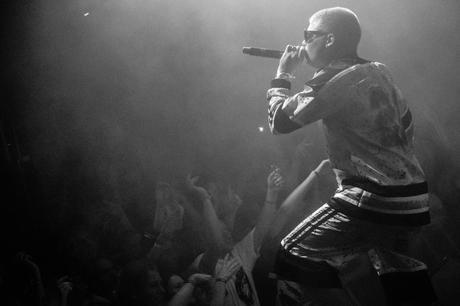 Yung Lean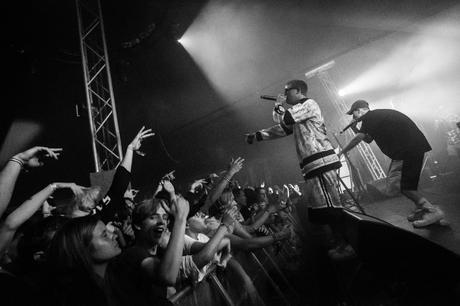 Yung Lean and the disciples.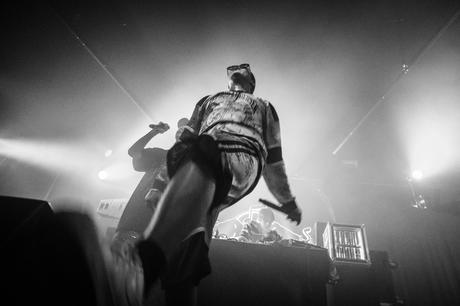 Yung Lean owns the stage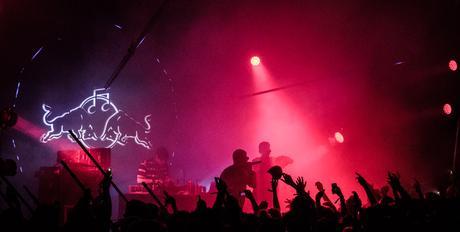 Take my cap! Yung Lean is absolutely worshipped by the crowd.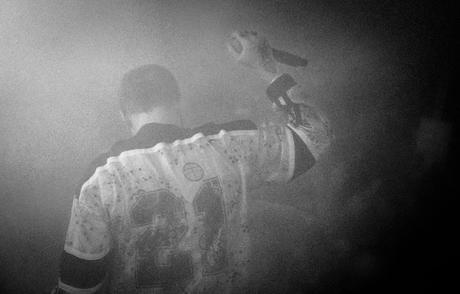 A happy and Yung Lean thanks the crowd hidden in the smoke
A much anticipated Danish back-2-back DJ session with local heroes Eloq and DJ EDDEH followed. They are both awesome DJs and producers (and 2/3rds of the awesome AV AV AV) but this could so easily have deteriorated into a pure Distortion street party-party-party set, fortunately they kept it deep and honest which was really nice and welcome.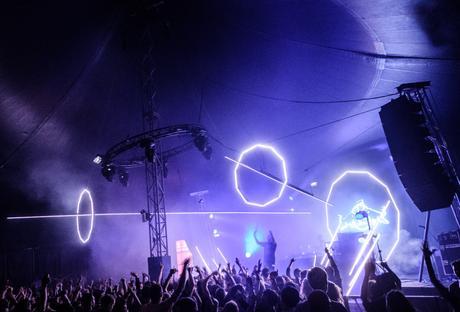 Eloq B2B with DJ Er Du Dum Eller Hvad really got the tent boiling on the very warm Friday night.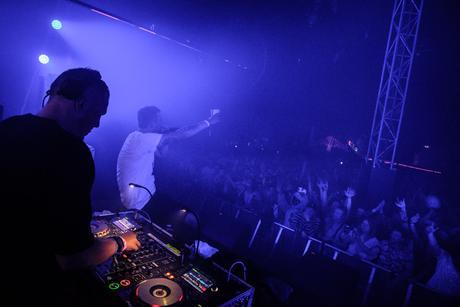 Eloq B2B with DJ Er Du Dum Eller Hvad – (spot the Cookie Monster)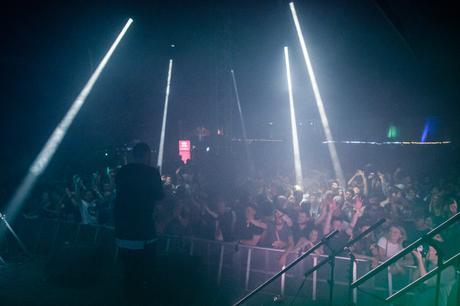 DJ Er Du Dum Eller Hvad hypes the energetic crowd.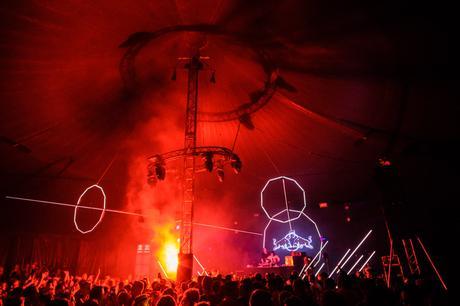 Burning down the house. Flares lit in the middle of the crowd are dangerous and a bad thing (but they do look rather spectacular)
Rounding out the night was another DJ back-2-back session, this time with Oneman and My Nu Leng. This played a few nice bass tunes but at this point in the night, we have been working and shooting in this environment for more than 7 hours straight and we need to get up early and deliver the pictures. That means I usually cut the last set short, I get my shots and then we try and get home in a hurry to get a bit of sleep before the 3-4 hours of Lightroom work and upload of pictures.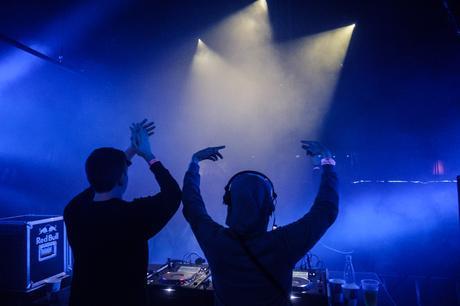 Oneman B2B My Nu Leng closed the Friday night.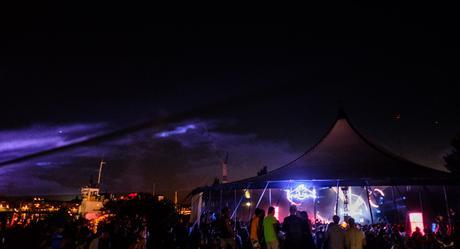 A look at the tent from the outside on a lovely, very warm Danish summer night.
And the beat goes on
It was an intense and challenging day 1. A tent featuring a tent pole smack bang in the middle of every angle makes for a challenging shoot, I needed to re-think all my usual compositions. 8 hours of work and about 800 pictures later and it was time to get home as fast as possible to get a few hours sleep before developing and delivering the pictures. I really like doing black and white music pictures at the moment, but in this case it was also a necessity at times when LED lights on stage burned out all colours in the image. Those LED lights and digital sensors are not friends.
There are some pictures I really like, so overall I struggled a bit on Friday but am reasonably satisfied looking back at the shots. Like at a European Cup game (did I mention Denmark won in 1992!), after a few halftime adjustments the second half was improved, and Saturday seemed to go even better. Day 2 will be featured in a future blog post, stay tuned. 
CAMERA GEAR
My gear has changed somewhat from what I described in my Get In The Loop ebook. Since the ebook, the X-Pro2 camera was released and I also had a Samyang 12mm wide angle on loan (thank you Bech Foto) for this gig. This is what I brought: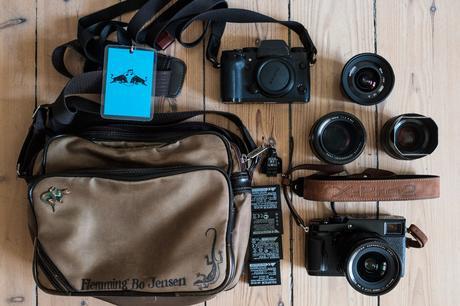 Cameras
Fujifilm X-Pro2, main camera for this gig. The new fast shutter and amazing sensor is unreal good in low light.
this meant that my Fujifilm X-T1, my old pal, my trusty tool and by far my favourite camera – was just on backup duty for this gig.
Lenses
Fujinon XF 16mm F1.4 lens – the perfect wide angle low light lens for music photography.
Fujinon XF 35mm F1.4 lens – 4 years old, but still going strong.
Fujinon XF 56mm F1.2 lens – for close ups, ended up having no use for it for this gig.
Samyang 12mm lens – I really wanted to try this super wide angle lens at a gig, and Kim Bech of Bech Foto kindly loaned me one.
Also coming along for the ride…
Darth Vader
5 dollar camera bag
A truckload of batteries!
And not pictured is earplugs, battery charger and Motorola Moto-G android phone for submitting pictures to Red Bull during the gig via Fujifilm Remote Camera app.
Oh and most importantly, I brought a sandwich for re-fueling at 2am!
The X-Pro2 performed perfectly during the night, as long as I fed it a new battery every 200 shot or so. As for lenses, this was quite funny, both Charlene and I both ended up using lenses we hardly ever use at gigs. Charlene was in the pit most of the time and really needed the 16mm – so I swapped her the 16 for my 18mm lens that she was carrying. I could do without the 16mm as I also had the Samyang 12mm for ultra wide shots. So I ended up shooting most of the Friday night with probably my favourite lens of all time – the XF 18mm – and my second favourite lens, the 35mm F1.4.
After the first night you get a feel for what works and doesn't, I never had any use for the 56mm so I gave that to Charlene and then I took her XF 23mm lens and used that a lot on Saturday evening. The 23mm is a lens that I do not use much and I had forgotten how truly awesome it is.
I did also get some special shots with the Samyang 12mm and I will do a separate review of this lens. Finally, the ear plugs and sandwich worked wonders, most importantly!
§