Bamboo and Dragon fly, bespoke stained glass window
This panel was installed last week, it fills a window between the kitchen and dining room in a 1930′s house in Exeter. The opening between the front and back of the house allows more light into the kitchen area as well as a wonderful focal point for both rooms.
Every commission comes with a brief and I managed to create a design that had bright colours and bamboo and water with dragonflies.
There is a pleasing sense of movement in the bamboo due to using Spectrum Water Glass and I have painted the shading and detail onto the bamboo stems.
I have used a mixture of antique mouth blown glass and modern Spectrum Glass. I have used traditional glass paints and luster which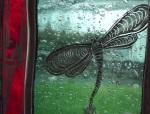 have been fired in the kiln. This is a big panel and to give it extra strength I have used some internal reinforcing and a rigid metal frame.
To find out what the differences between different types of glass are click here 
See how mouth blown stained glass is made at Lambert's UK glass factory by clicking here
Bamboo and Dragon fly, bespoke stained glass window
The finished stained glass panel in situ
looking from the kitchen to the dining room