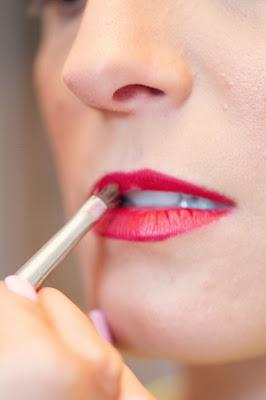 Thoughts and feelings on wearing red lipstick. 
I am obsessed with red lipstick. In a sea of overwhelming choices of pink, orange, nude and berry, my reds are the ones I find myself going back to time and time again. Red is definitely my favorite lip color, I have worn matte, glossy high shine, lip pencils, and stains. And none of them have ever let me down. I wore red on my wedding day, I wear it to work, and I have worn it to the grocery store. I am convinced I will give birth one day in my favorite no smudge red lip stick…I promise I will let you know how that works out for me.
Rather than do what I usually do which is impose my thoughts and feeling about a certain fashion or beauty item upon you, I have decided this time to hit the streets and survey other fashionable ladies. And by hit the streets I mean that I texted several fashionable friends and asked them for their thoughts on wearing red lipstick.
I asked  how they feel when they wear it, and whether or not they believe there is a time and place for a red lip?
And this is what they said…
The general consensus was that red should be worn for more formal events; it's can also glam up a more casual outfit such jeans and a t-shirt, but it's not meant to be worn with sweat pants.
In terms of what other make up to pair with it, one friend suggested a full face of makeup is more proper, another suggested leaving eyes plain so that the lips are the focal point.  The general consensus though was to have a good base of foundation and lip liner to ensure the color doesn't bleed. Bleeding was a big issue for my girlfriends, because the color ends up on your teeth and on your chin if you are eating while wearing a red lip stain.  This makes it slightly impractical in their eyes, especially the fact that it can make your face look blotchier if you haven't covered up any red spots on your skin.  The plus side is that it makes your teeth appear whiter.
What about skin tone? Some felt that it makes them look pale, yet admitted they still wear it because it made them feel more glamorous (how interesting that you are not entirely thrilled with the look yet it still makes you feel great...that's the powerful image a bold red lip projects). One of my friends suggested that ANYONE can wear red; you just have to find that right shade and texture for your skin tone (I AGREE!!!)
And how do we feel when we wear red? The list of adjectives included confident, like a "celebrity", fancy, and sexy. That's what I love to hear!
Here are few of my own thoughts on red (you know I can't resist throwing my own two cents in). There is a lot of pressure when you're wearing a bold lip (be it red, fuchsia or orange), the liner has to be perfect, you have to expect people will notice you, and you have to be aware that you will be leaving your mark everywhere, so be careful who you kiss or what you drink. That's all part of the allure isn't it?
So which is my favorite red? Oh sheesh that would be like choosing a favorite child (or dog in my case) they are "all my favorites".  Fine, if you twist my arm I could narrow it down to three.1. Lady danger from MAC, this shade is unexpected, bold, and expressive. Warning, its so long lasting it will remain on your lips for 48 hours. 2. NARS Satin Lip Pencil in Luxembourg so easy to apply, goes on smooth and doesn't smudge. 3.Chanel Rouge Allure 104 in Passion the most perfect not-red-red, a combo of fuchsia and red, it goes with anything and is perfect for day time wear. 


Since I consider myself a "serious collector and I love trying out new lipsticks it is now that time where we share our favorite things. Please comment below with your fav red lip colors and brands, also please throw in your thoughts and feelings on what you experience when you're wearing your red lip. 

This post was written and submitted to IFB as part of their weekly project "Moment on the Lips"