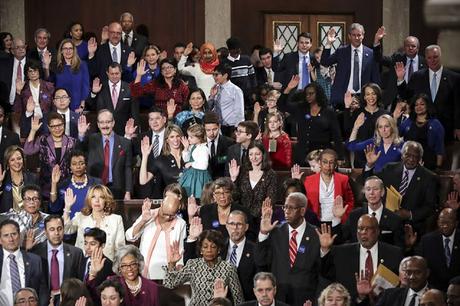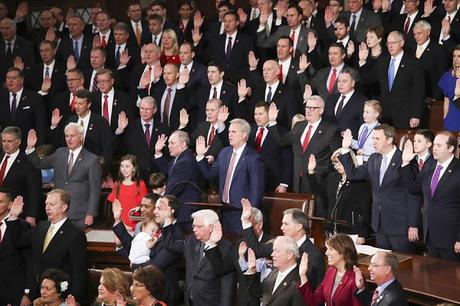 These photos are from Facebook. They show the Democrats (top photo) and Republicans (bottom photo) being sworn in as members of the 116th Congress in the House of Representatives. There is a striking difference in the photos. The Democrats show a remarkable diversity -- and represent the diversity that makes this country great. The Republicans are mainly just old white men.
One of the things that's great about the new House is the record number of women now serving (over 100). That's not enough and we still need that number to be much higher (like about 200 or more), but it is a big improvement.
Here's how Elise Viebeck describes the new House for The Washington Post:


Women lawmakers had to wait until 2011 to get a restroom off the floor of the House.

On Thursday for the first time, there was a line to get in.

The opening day of the 116th Congress was heavy with symbolism underscoring women's historic gains in power as Rep. Nancy Pelosi (D-Calif.) retook the speaker's gavel and more than 100 women were sworn in on the floor of the House.

Beneath the portraits of male speakers past, history seemed to be changing.

Dozens of newly elected women queued to receive their member pins. Husbands affixed those pins to their wives' lapels. They held tote bags, corralled relatives and quieted children.

The day served as a powerful reminder of the shifting gender dynamics of the House as Democrats ascend to power. When Pelosi arrived on Capitol Hill in 1987, there were 23 female members. As of Thursday, there are 102, nearly 90 percent of whom are Democrats. . . .

Pelosi underscored these hopes in her opening speech to the House as speaker, noting that her election comes amid the 100th anniversary of women's suffrage. . . .

The difference between the Democratic and Republican caucuses was striking as members assembled midday on the House floor.

To the left of the dais — the Democratic side — the typical sea of men's suit jackets was balanced by pops of green, blue and white worn by women. Bald heads alternated with bobbed haircuts. Scanning the rows, the record number of women and lawmakers of Hispanic, Asian and African American heritage who will serve this term was clear.

To the right of the dais — the Republican side — older white men occupied nearly every seat. Visually, granddaughters provided most of the contrast.