Here are three graphs that put the lie to the POS and his slavish mainstream media bleating that the U.S. economy is in "recovery."
Graph #1
Do you know why the unemployment rate keeps falling, the latest from 7.0% to 6.7%?
That's not because the jobless are finding jobs. Noooo. The reason is because even more Americans have simply dropped out of the labor force. The U.S. labor force participation rate is now at a 35-year low at 62.8%, hitting levels not seen since 1978, although there are 9 million more Americans today than in 1980.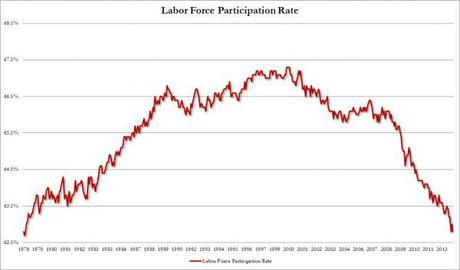 Graph #2
Look around you. A 62.8% labor participation rate means more than 4 out of every 10 adults you see are not working.
The number of Americans who don't work is now a never-seen-before 91.8 million. That means we have more people not working than the entire population of these select countries:
Vietnam: 90.388 million total population
Egypt: 83.661 million
Germany: 80.586 million
France: 65.860 million
United Kingdom: 63.705 million
Italy: 59.901 million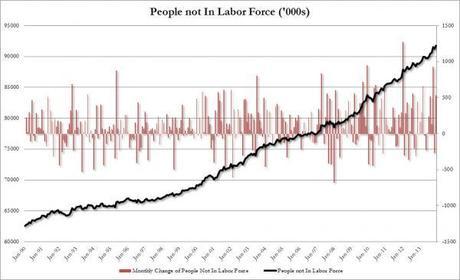 Graph #3
Here's one reason why more and more Americans aren't working: Despite the Fed spending over $1 trillion in 2013 to "stimulate" the economy, there were fewer jobs created in 2013 than in 2012.
Establishment survey 2012 vs 2013 job change: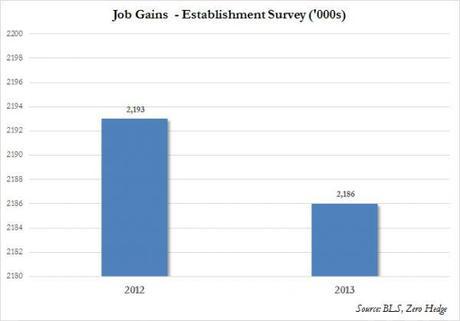 Sources: ZeroHedge and ZeroHedge
~Eowyn