Reclamation of a People – Women Creole Artists, Language, Dialect and Legacy
"We can take everything that English education has to offer us, but ultimately, we must reject the domination of her influence because we are not English, nor should we ever want to be."
So said Norman Manley, first Prime Minister of Jamaica, 1939, quoted from (p1) 'Miss Lou: Louise Bennett and Jamaican Culture' by Mervyn Morris
Black history month is surely the time to celebrate the legacy of Jamaican women who promoted their culture and aroused interest in it, through performing poetry, stories and plays in their native Creole dialect, known as 'patois' in the UK.
Before introducing them, it is worth sharing how the mother tongue of most Jamaicans is Creole and that 90% of Jamaicans are black and descendants of Africans forcibly taken to the New World as slaves. The language is made up of words originating from other languages, mainly English, combined with language structures from Africa. The literary heritage of this language is rich, consisting of songs, folk tales, proverbs, drum music and riddles. The most famous examples of Creole literature, are the series of Anancy stories about a cunning spider who, although no saint himself, reveals weaknesses in human nature.
One woman artist who made an impact in England through using Creole in performance was Pamela Colman Smith, an artist at the Slade School of Art, occultist, poet and performer. She captivated the 'Swallows and Amazons' author Arthur Ransome, whose father was a distinguished Lancaster Grammar School scholar and whose grandfather lived in Morecambe. Ransome wrote about this ebullient, vibrant young woman in his book ' Bohemia in London'. The two met before World War I. The first time they met, she treated him to the 'It' drink of the day, opal hush, a mixture of claret and lemonade, before launching into a song:
'O the googoo bird is a giddy bird
No other is so gay.
O the googoo bird is a merry bird,
Her zingeth all day.
Her zooketh sweet flowers
To make her voice clear,
And when her cryeth, googoo, googoo,
The zummer draweth near.'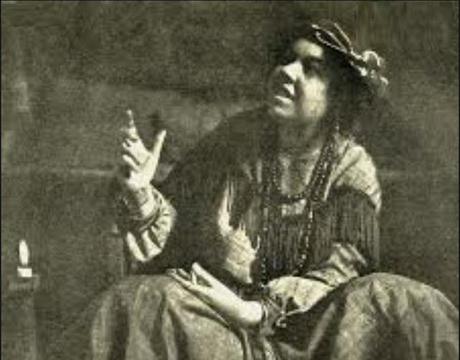 Pamela Colman Smith
She went on to tell Anancy stories, another about a singing turtle, then Chim Chim, the little bird and also the Obeah Woman, mentioned in a song by Nina Simone. Ransome, relates how she helped understanding of them with wooden toys she made herself. He writes (p64) '
Bohemia in London
':
"
To hear her was to be carried back to the primitive days of story-telling, and to understand, a little, how it was that the stories of the old minstrels were handed on from man to man with so little change upon the way
."
Ransome was a great advocate of preserving dialect and languages of minority communities or language that is marginalised by any society. An example of this is when he ingratiated himself with the Romany Gypsy community of Millom to the extent of learning their language. It is unsurprising that he should have befriended Pamela Colman Smith, whom he names, significantly, Gypsy in his account.
Another woman who was instrumental in promoting the Creole language and its dialect in the twentieth century and up to her death in 2006, was Louise Bennett, known popularly as Miss Lou. Born in Kingston in 1919, she learned Creole songs, legends, folk customs, proverbs and stories from her grandmother. A poet, actor, researcher and teacher, she fought to gain international recognition and respect for the Creole language. Bi-lingual, she spoke and performed in Standard English and Creole.
During her educational years in Jamaica, her biographer, Morris says that she gained the firm understanding that the colonial authorities around her thought that songs, stories and verses she heard on her grandmother's knee (p26): "
…ought to be despised and deplored as coming from the offspring of slaves who were illiterate, uncultured and downright stupid
."
She herself, along with other Jamaicans, felt that she was expected to have European tastes and to cultivate only art from other lands than her own. She felt that particularly, her African heritage was undermined and deserved respect. The opposition to Creole had its roots in prejudice, which she faced with humor and, according to those who knew her, humility.
She started the path to reversing this as a teenager, when she wrote her first poem in Creole. She identified with market women who had to carry baskets and had to sit at the back of buses. She understood their resentment when other people tried to take the back seats of the buses and expressed this in her poem
On A Tramcar
(p8) '
Miss Lou: Louise Bennett and Jamaican Culture
', Mervyn Morris
:
'Pread out yuhself deh Liza, wan
Dress 'oman dah look sey
She se'de li space side a we
An' want foace herself een deh.

Translation:
Spread yourself there, Liza
A dressed up woman looks as though
She sees the little space beside us
And wants to force herself in there.
During her lifetime Louise Bennett gained a British Council scholarship to RADA, a scholarship to collect folklore in West Indian territories, had her own radio shows, acted in pantomimes, published and performed her own poetry in England, Jamaica and America, published Anancy stories, Jamaican songs, verses, recipes and folklore, gained an MBE for her services to Jamaican literature and theatre, became Ambassador and Special Envoy for Jamaica and took part in the film Club Paradise with Robin Williams and Peter O'Toole.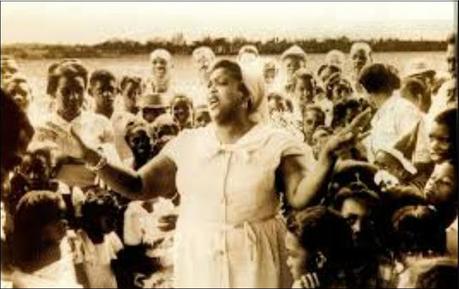 Louise Bennett
Children in Jamaica became, under her influence, like her, bi-lingual, learning Creole in addition to Standard English, in which she was fluent. Her influence endures in Jamaica today.
Louise Bennett challenged opposition to Creole and won. Her desire to preserve Creole dialect had its roots in preserving the spirit and soul of another country and asserting what was essentially the foundation of her island race, preserving what came from African culture. It was not like someone trying to preserve what came from England, like Lancashire or Yorkshire dialect. Unsurprisingly, she had support from her native country, Jamaica, in addition to support from the English-speaking literary establishment itself who admired her. She reached out to the English-speaking people by performing in Creole and in Standard English.
Is Creole a language, rather than a dialect? We have to ask where does this leave the British and their dialects?  Should we preserve our many dialects and what place do they have? It's over to you folks!
What would be the likely outcome if English language schools taught sophisticated Asian businessmen Yorkshire dialect like "Put wood i' thoile" (it means 'close the door' – 'put the wood in the hole') and making them pronounce it correctly according to ancient recordings of Yorkshire folk? What place does dialect, from the many regions of England, have in today's society? What of the forgotten English Gypsy language Ransome learned?
One thing is certain in England; what would never be tolerated in mainstream English schools is teaching Standard English, which was taught to Miss Bennett. The reason is because of our society is so class ridden and because early publishers of books on how to speak Standard English, in my opinion, wanted crucifying and boiling in oil.
I remember when I took drama lessons, coming across the verse:
Father's car is a Jaguar
and pa drives rather fast!
Castles, farms and draughty barns
We go charging past. (Long A sounds of course)
It's awful, isn't it? It is so class ridden and 'those-with-money-centric' it is untrue! Even without being subjected to this, people, no doubt would soon get uppity and on the defensive about being made to talk posh, when the reality is, we live in an international community where English is a common language and many EFL students ask 'how do you sound like an English person, and what is the correct pronunciation?' That is the purpose of Standard English; to have a general standard.
Teaching Standard German works in Germany, but then, their high and low German has nothing to do with indicating class or social status. Received Pronunciation, whether English, German or American, is merely a means of communication across countries and continents, especially across the second language world of today.
Thanks mainly to Oscar Wilde, I became totally sold on Received Pronunciation. Not many people know that he swapped his native Dublin accent for Standard English. I used to read out his poetry, which I loved, over and over again, noting how it seemed to suit Standard English. Now I know why! People I shared his poetry with gave comments like, "Amazing", "Wow!", "Sweet", "Really sweet" and "Very sweet". A favorite quote was:
And at Springtide when the apple blossoms
brush the burnished bosom of the dove,
two young lovers lying in an orchard
would have read the story of our love.
Would have read the legend of my passion,
known the bitter secret of my heart
kissed as we have kissed
but never parted as we two
are fated now to part.
So, it goes on….
What has been helpful for me through standing by my man, (Wilde), is that I have never had any harassment from anyone down south about how I speak. People do not notice this at all. If people have a strong accent they can be subjected to ridicule, particularly teachers by pupils in schools who are from another region of the country. A teacher who was a native of Poland complained to me that her pupils imitated her accent, which she did not like. Maybe pupils should not do this and it is rude, but they do and it a hassle people can do without.
Conversely, I received criticism and accusations of snobbery from people who came from native Lancashire where I grew up and was tackled by school students about this. I ignored them as I was doing nothing wrong and have profited as a result. In the Czech Republic in July 1997, I ended up going from unemployed to employed because a language school manager wanted a teacher who spoke standard English for the benefit of his students. He wanted me to give the students Standard English lessons, which I have no problem with and rather enjoyed giving, as each language has own music and it is great to share this with others. In the post-Communist world of Eastern Europe, of course, speaking 'posh' means nothing, something that generally goes over the heads of the British English.
It is worth noting that even if accent is used, as it often is, in drama, accent has to be standardized for performance. There is no point in people speaking with such strong accents that an audience cannot understand them, which can and has happened, resulting in viewer complaints from those who watched a TV serial set in the south west of England!
It seems appropriate to end this blog with a quote from the admirable and eminently sensible Miss Bennett, who did not reject Standard English, but promoted her native tongue (p12 ibid): 
"I think I speak for all Jamaica. I can't feel that I belong to any class or that I write for any class."
Anne Gaelan
Email This
BlogThis!
Share to Twitter
Share to Facebook