I'm not the only one in my family who blogs about food. In fact, my cousin Emily was one of the first bloggers I started to follow, and she is one of the first people to spark my interest in cooking. Check out her blog at Corcoran Street Kitchen; I promise you won't be disappointed. She comes up with such creative ideas for her recipes, which cover everything from simple sides to decadent desserts.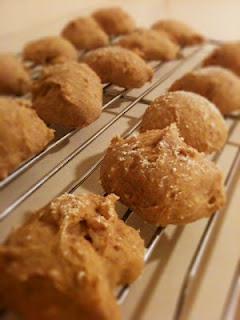 As always, I took some time this past weekend to do a little baking. Emily posted a recipe for creamy chai sugar cookies that sounded awesome. I love the flavors of Chai — cinnamon, nutmeg, ginger, five-spice — so I was really looking forward to trying these cookies. I lightened up the recipe, as I often do, by using fat free cream cheese and applesauce as a substitute for the butter. I also used Stevia instead of regular sugar. The end result was good, but I won't lie; it wasn't as great as Emily's sounded. The spices did shine through, which helped to give the cookies flavor, but they didn't come out as creamy as I imagine they should be. I think I'll try making these again, but keep the butter and use reduced fat cream cheese rather than fat free. I'll continue using Stevia since I don't really think that changes the outcome too much, and it'll keep the calorie count down a bit. These cookies required the use of five spice, something I've never used before. This is a spice used in a lot of Asian cooking, and it gave the cookies a great taste. This new addition to my spice rack may be making appearances in some dinner recipes soon...
On another note, March is just around the corner and it is going to be one crazy month filled with lots of new and delicious food. Here's a glance at what I have coming up...
Purim: I'll be attending a Purim carnival with a friend during the first week of March. I'm sure there will be lots of yummy food to indulge in. I also want to try my hand at making Hamantaschen! Filled with fruit preserves or chocolate, these cookies are a Purim tradition, so obviously I have to give it a shot.
My birthday weekend! Two of my best friends from home are coming to visit. We'll be going out to some great restaurants in the area while they're here. I'm excited about their visit, and for them to Take A Bite Out of Boca with me! (PS-March 11 is my birthday!)
Food Blogger's Forum, Orlando. A weekend long conference held on site at Epcot, hosted by Disney! I am so excited for this event. I'll get to meet tons of bloggers that I follow and learn how to better my blogging skills. 
Boca Bacchanal. I wrote about this event not too long ago. I'm on the planning committee for the Grand Tasting held on March 25th. Over 30 south Florida restaurants with delicious foods to taste and lots of wines to try, it'll be an awesome afternoon at Mizner Park. 
Be on the lookout for blog posts about all of these events and hopefully some new recipes!