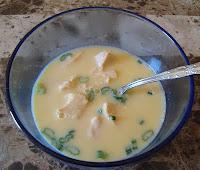 This nacho cheese chicken soup is fairly quick and easy to make.
Ingredients
1 - 15 ounce can nacho cheese dip
1 - 32 ounce container of chicken broth
2 - 12.5 ounce cans of canned chunk chicken (You can substitute with leftover chicken meat.)
Garnish - 1 green onion and / or cilantro leaves.
Whisk together the nacho cheese dip and chicken broth in a pot on medium heat.  Then, add chicken.  Heat to desired temperature, garnish and enjoy!