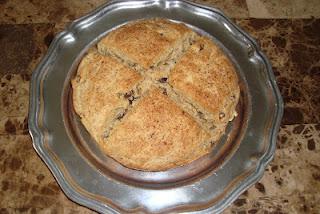 Almond Meal Raisin Bread
Want a bread alternative? Try Almond Meal/Flour instead of wheat flour. This bread is easy to make. The preparation time is only a few minutes, with a longer bake time.
This recipe is similar to Irish Soda Bread.
If you like the flavor of whole grain foods and an earthy texture, you will probably enjoy this bread. There are no grains in this recipe, but the almond meal gives it the rustic/earthy flavor and texture.
This recipe is flexible enough to take in any direction. You can make it sweeter for a breakfast or snack. Or, you can can add herbs and cheeses for an appetizer or side dish. Play around with the recipe to create your masterpiece!
(See the Original recipe that I found on elanaspantry.com)
2 ½ cups almond meal/flour (Can be found at Walmart near the flour and Trader Joe's)
½ tsp Celtic sea salt (I used Kosher salt)
½ tsp baking soda
3 eggs
1 tablespoon agave nectar (I substituted with honey)
½ tsp apple cider vinegar
I added the following to the original recipe:
1 handful of raisins
2 tablespoons of butter
Sprinkle a little cinnamon on the top before baking.
Combine almond meal, salt and baking soda.
In a separate bowl, whisk the eggs, then add the agave (or honey) & vinegar.
Mix the wet and dry ingredients together.
Form the "dough" into a ball. Add a little more almond meal if it's too wet to form a ball. Cut a large "X" on the top - but not too deep. You can carve any shape into the top.
Bake at 300 for 45-55 minutes on bottom rack until a knife comes out clean.
Cool and serve.
Our family liked it with butter and honey on their slice. 
This recipe is a bit crumbly, but the flavor is good. Mine may be a bit crumbly because I added a bit more of the almond meal and raisins.