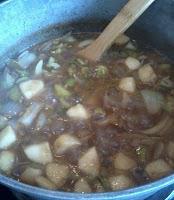 Soup with Celery Onion & Parsnips
We juice lots of fruits and vegetables for breakfast and lunch.  Today, I made a quick and easy soup with some leftovers.  Many of my recipes are based on odds and ends we have on hand in the pantry or frig. 
The ingredients may sound a little odd, but they work well together.  It cooks up fast, meaning the vegetables soften quickly.  Because of the sweetness of the parsnips and apple, I chose White Zinfandel and cinnamon as 2 of the ingredients.  Celery is great for working well in just about any flavor direction you choose.  This soup isn't sweet like dessert, but is more savory with the earthy flavors of the cumin and rosemary.
I garnished it with provolone cheese and served pumpernickel bread on the side.
Ingredients
1 entire package of celery chopped (even the leaves)
3 parsnips, peeled and chopped
1 yellow onion chopped
1 Fuji apple, peeled and chopped
32 ounce container of Swanson organic vegetable broth
2 packages of Lipton Mushroom Onion soup mix (the dry powder kind)
Couple shakes of Lea & Perrins Worcestershire Sauce
1/4 cup to 1/2 cup White Zinfandel wine
1/2 tablespoon Mustard powder
1/2 teaspoon of Garlic powder
Couple shakes of Cumin powder
Couple shakes of Cinnamon powder
Couple pinches of dried Rosemary
1/2 teaspoon of salt or to taste
1/2 teaspoon coarse ground pepper or to taste
1/2 tablespoon extra virgin olive oil
Chop the onions first and saute in your pot with the olive oil and pepper.  Add your ingredients into the pot and boil just until soft (approximately 20 minutes).
Garnish with provolone cheese.
Goes well with pumpernickel bread.