Now that Thanksgiving has come and gone, it's time to get serious about my very favorite holiday: Christmas.  I love this time of year: the crisp air, torrential rainstorms, constant flow of gatherings, hot chocolate-fueled shopping sprees, shows to attend, and free reign to wear as many sequins as you'd like – whenever you'd like.  I also love the gift-giving part of Christmas.
I have to admit something straight away: I'm not much of a gift-giver.  Don't get me wrong – I love the idea of finding the perfect gift for someone, wrapping it up and giving it to them on Christmas Day.  But the reality is that I rarely find the perfect gift.  Sometimes I come close…usually I don't.  Usually, my Christmas gifts are lackluster and tossed into the gigantic pile of "cool stuff I got that I'm going to forget about in a couple of days" that accumulates at every family gathering I attend.  This year, I've decided to put some thought and love into each gift I give to my family and friends for the holidays.  I'm going to craft and bake my way into the hearts of those closest to me.  And (lucky you!) I'm sharing it all with you.  For the next few weeks, I'm going to be posting some of my favorite holiday treats.  Be warned – some of these are decidedly Paleo treats and some of them are NOT.  But give me a break here… it's Christmas and not everyone in my social circle is going to be thrilled by a gift of Paleo Chocolate Candy Bars.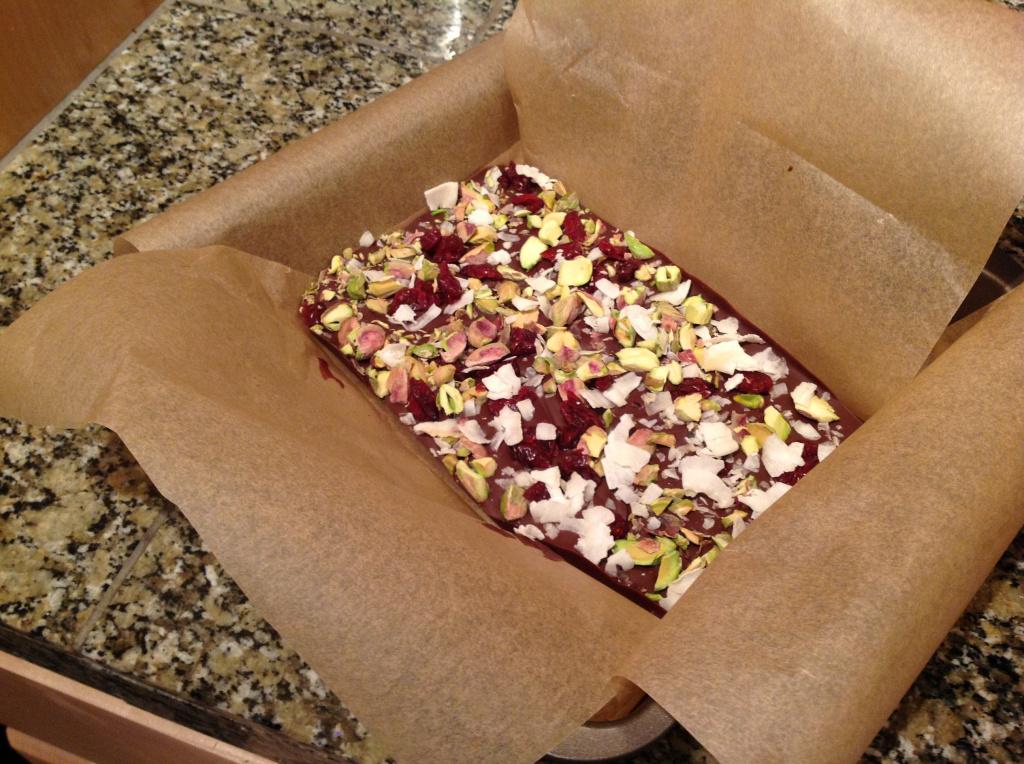 This holiday bark represents my first foray into chocolate-bark making.  I was sitting around at home on Thanksgiving, thinking that I really deserved to have something sweet after dinner because I needed to carb-up for the marathon I'd run in a few days.  I puttered around my kitchen for a minute, trying to put together ingredients that would make a delicious cake or pie or tart or whatever.  That's when I spotted them: two bags of dark chocolate chips that I had been "sneaking" chips out of for the past week.  These chips needed to get out of my pantry immediately.  I grabbed them, and a mishmash of salty and sweet toppings and went to work.  You can mix up the toppings however you'd like, but this variation is great because it's an easy way to make even your most Paleo-averse friends think that our lifestyle might be worth it in the end.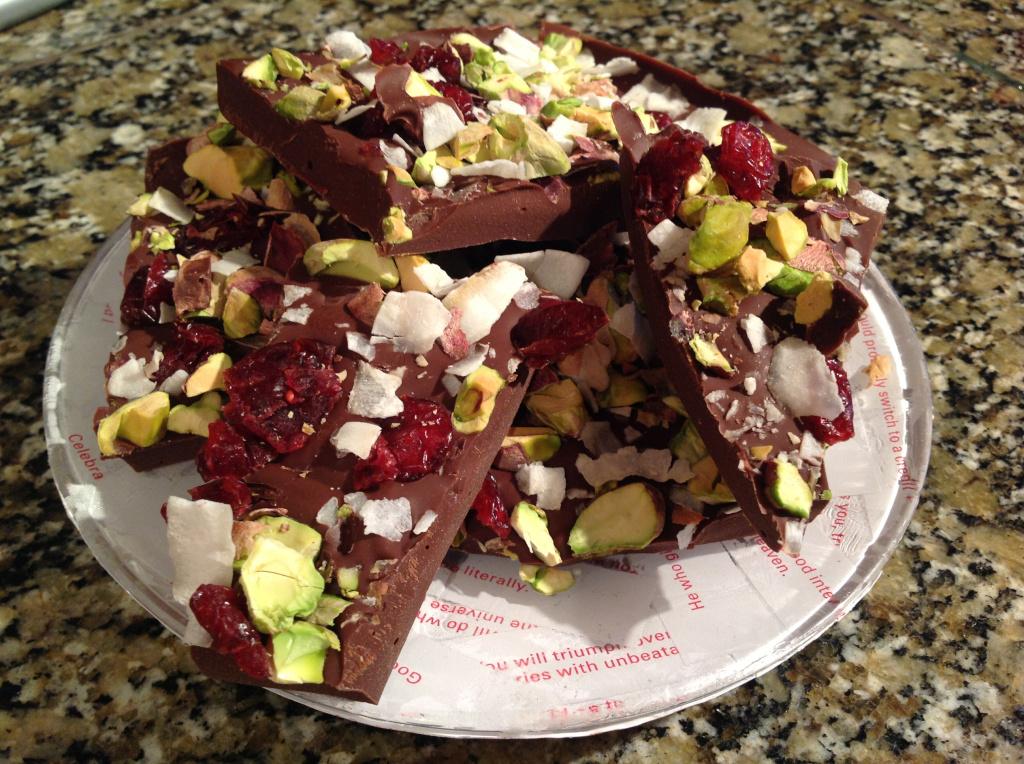 Chocolate Holiday Bark
Ingredients:
8 oz. dark chocolate chips
1/4 c. pistachios, shelled and roughly chopped
1/4 c. cranberries, roughly chopped
Handful of unsweetened coconut flakes
1/4 tsp. sea salt
Method:
1. Line the bottom and sides of a small baking pan (I used an 8×8″ pan) with parchment paper
2. Place chocolate chips in a glass mixing bowl.  Microwave on high for 2 minutes, stopping to stir every 30 seconds to make sure they melt evenly.
3. Sprinkle sea salt over the parchment paper.  Pour chocolate over sea salt and smooth out evenly.  Sprinkle toppings over the chocolate and place in the fridge for 2-3 hours, or until chocolate hardens.  Break into pieces using your hands or a small hammer.  It is best to keep this treat in the fridge or cool storage until you are ready to serve.
Prep time: 2 minutes
Total time: 2 hours
Serves: 2 gift-sized bundles