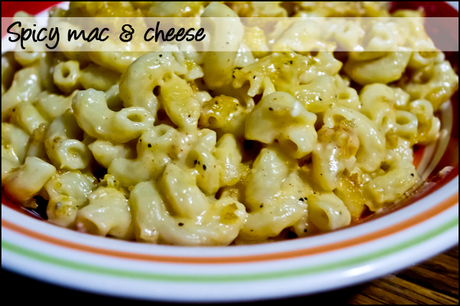 I'm completely freaked out by mac & cheese from a box -- seriously what is that stuff?! -- but I'm pretty weird about cheese in general so I guess it makes sense. How weird? I only like cheese if it's melted and still warm -- and even then, there's only so much of it I can eat.
Is your mind totally blown? Don't worry -- that's a normal reaction. In my experience, 95 percent of the people I tell this random fact to think I'm bizarre. This includes my fiancé, who's from the Illinois and, like all good Midwestern boys, takes his cheese EXTREMELY seriously.
Which is why I am completely flattered when he tells me he LOVES my spicy mac & cheese. And I must admit, it's pretty insane. It's loaded with four different cheeses (including blue cheese!), seasoned with cayenne pepper, and topped with breadcrumbs. I can't take all the credit for it -- I was inspired by Eat Live Run -- but I did make some tweaks to the original to up the spiciness and add a little crunch.
Take that, Kraft!
Ingredients 
16 oz macaroni noodles 
3 tablespoons butter 
3 tablespoons all purpose flour 
4 cups milk 
16 ounces mixed grated cheese (I use the mac & cheese blend my store conveniently sells - it's a mix of cheddar, monterey jack and mozzarella). 
3.5 ounces crumbled blue cheese 
1 tsp salt 1/2 tsp pepper 
1/2 tsp cayenne pepper 
1 cup Panko bread crumbs 
1 to 2 tablespoons olive oil 
Directions
Preheat oven to 400 degrees 
Cook the macaroni, and then drain and rinse with cold water. Set aside. 
In a heavy pot over medium high heat, melt the butter and add the flour. Whisk together and cook for 30 seconds. Add 2 cups milk and whisk until smooth. 
Add another cup of the milk (reserving one cup) and continue to whisk. Cook for 4 minutes while whisking. The mixture will thicken. 
Add 12 ounces of the grated mixed cheese and stir until the cheese melts. 
Add the salt, pepper and cayenne followed by the additional cup of milk and the blue cheese crumbles. Stir well. 
Once everything is smooth, add the cooked macaroni and toss. 
Pour into a 9″13″ casserole pan and top with the remaining grated cheese. 
In a separate bowl, combine the bread crumbs and olive oil. Use enough oil so that the crumbs are moist. 
Sprinkle the top of the casserole with the bread crumbs. 
Bake for 24 minutes, until cheese is bubbling and gooey. 
 If you like, broil for a minute or two to add some extra crunch to top.