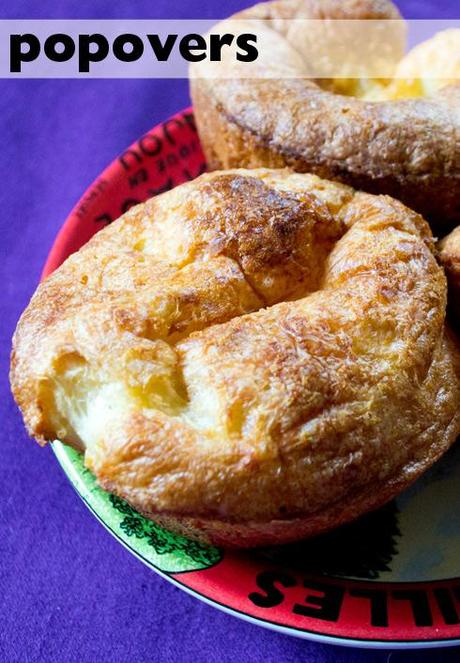 I live around the corner from the
Best Popovers in Boston
and so this breakfast food is a staple in my diet. Since I couldn't spend out during Frugal February, I decided to make my own and they turned out pretty darn awesome. Initially, I was worried popovers wouldn't rise and/or they'd deflate, but it turns out that as long as you don't open the oven too early (no peeking!) and have all your ingredients at room temperature, you're golden!
Popovers
Adapted from the Joy of Cooking
Ingredients
(at room temperature)
I make my ingredients "room" temperature by either sticking them in the microwave or in -- the case of eggs -- in warm water for a few seconds. Works like a charm!
1 cup all-purpose flour
1/2 teaspoon salt
2 large eggs
1 1/4 cup milk
1 tablespoon warm melted unsalted butter
Directions
Place the rack in the center of the oven, and preheat to 450 degrees. 
Grease a popover tin, standard 12 muffin pan, or twelve 6-ounce custard cups. (I used a muffin/cupcake pan.)
In a large bowl, whisk the flour and the salt. 
In another bowl, whisk the eggs, milk, and butter. 
Pour the liquid mixture over the flour mixture, and fold just until blended. It will probably be lumpy! 
Fill the cups two-thirds to three-quarters full. (Side note: Joy of Cooking says to fill any unfilled cups one-third full with water so that your pan doesn't burn.)
Bake for 15 minutes at 450 degrees, then reduce the temperature to 350 degrees and bake for 20 more minutes, until browned and crusty. DO NOT OPEN THE OVEN until the last 5 minutes.
Remove from the oven, put on rack, and puncture the sides with a sharp knife to let steam escape. Serve immediately or return to a turned-off oven for up to 30 minutes for extra crispiness.