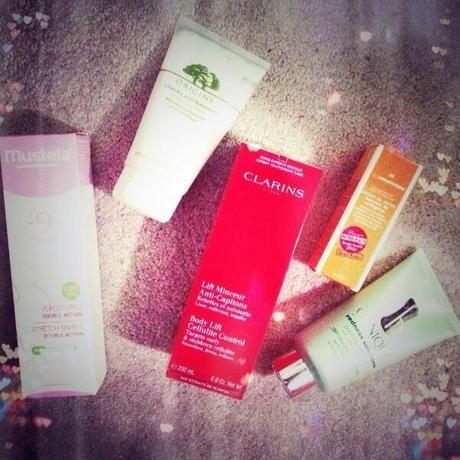 So the past few weeks have been spent lightening up my wallet by making some impulse buys! Oops, that's life, ain't it? No...just me? Okay then...on we go!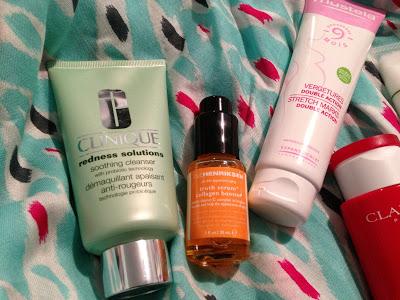 I've always been self-conscious of my skin, especially my face. I suffer from redness, but have never been diagnosed with rosacea. Its not something that I let control my life but 90% of the time I feel better with makeup on, covering up my redness. I've been trying to find a solution and that's where Clinique's Redness Solutions Soothing Cleanser (Macy's, $22.50) comes into play. As a product that helps to calm redness, I have high hopes for this!
I received the Ole Henriksen Truth Serum (Sephora, $48.50) in a Glossybox a few months ago and was very impressed with the way it made my skin feel that I had to go out and buy the full size. Its no secret that vitamin C helps the skin look youthful and this was just something I loved applying and it smells great too!
As someone whose dealt with a fluctuating weight my whole life, I'm sad to admit that I struggle with stretch marks! But hey, that is life. I read great reviews about Mustela Stretch Mark Cream (Sephora, $41.00) so I wanted to give it a shot. It's generally targeted to woman who are pregnant but it works for all the same reasons.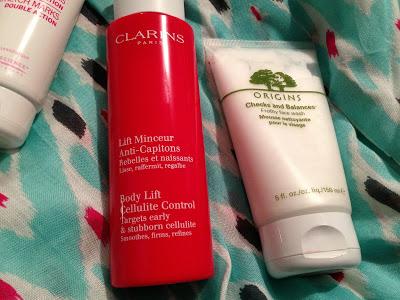 As I've just admitted, I've had a problem with my weight and again mother nature has graced me with that stubbornly woman problem of cellulite. Oy. Now I know that a product cannot permantely fix this, only exercise and a clean diet will...what a shame! But in the meantime, I thought why not give my skin a little boost with Clarins Body Lift Cellulite Control (Sephora, $68.00) as I journey into the clean eating world...that's a whole different story!
After running out of my beloved Origins Never A Dull Moment Cleanser, I opted for the Origins Checks and Balances Frothy Face Wash (Macy's $21.00). I've always been a lover of Origins products so I'm not all that surprised that I went with this one, again its something I've read great reviews on so I'm excited to try this out. Expect a full review on this soon :)