If you follow Reasons to Dress you know that I love celebrating when mom's look their best.  I have done 36 posts featuring real mom's style that I have photographed as part of my Real Mom Street Style Series, and now I would love to invite you in on the fun!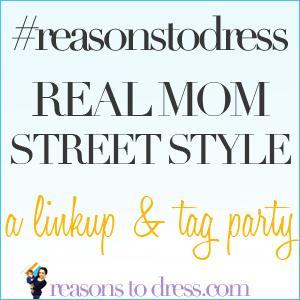 Something just makes me happy when a mom manages to find the time (even if it is only for a special occasion) to prepare herself and dress-up.  Let's face it, when you are running a household it is natural to put yourself last.
#REASONSTODRESS
Real Mom Street Style – for

bloggers

&

non

!
Started next Tuesday, September 23rd I would love to feature any and all moms (& dads) who have posted a picture of themselves looking fabulous.  Feel free to share what you wore AND where you went!
You do not need to be a fashion blogger in order to link up.
If you are a parenting, travel, lifestyle, marketing or expat blogger proud of what you wore…link it up.
This is a linkup for people raising/making other people, because it is about finding time for fashion even when you have no time. HOWEVER, you do not NEED to be a parent to linkup. If you have a look you think a mom would appreciate I would love to have you link up!
This linkup has NO MANDATORY RULES
it would be nice …
if you could
either

link back, add the badge or tweet about the linkup
if you could visit at least one other person in the link-up and leave them a lovely comment!
Non-Bloggers Can Play Along Too!
If you are not a blogger you can still (no YOU MUST!) play along.  Tag your any of your outfit shots on Instagram with #reasonstodress and I will either repost them on Instagram, or include them in the linkup or on my Facebook page!!  Don't be shy! Even if you have NEVER posted an outfit shot before, but everyday you put effort into what you wear, let me celebrate your style!
This linkup is open to all international bloggers, and since I love Italian style, I will do my best to invite fashionable Italian mom bloggers to join!  Please feel free to visit them too and comment!  They can all read English!
See you next week!!!

Follow Reasons to Dress through Bloglovin' & get 1 email a day with all the most recent posts from the blogs you love.
 You can find Reasons to Dress on  Facebook, Google +, Twitter, Instagram, Pinterest and Bloglovin'! I love hearing your comments and suggestions, please feel free to share any of my posts with your friends and don't be a stranger!
I'm a Top Mommy Blogger! Reasons to Dress is ranked as a top Fashion and Style Blog for moms, if you'd like to leave a comment about this blog or vote please visit TopMommyBlogs.com …THANK YOU!
Every week I try to link-up my with these fantastic ladies. Visit their sites for some inspiration & to discover new bloggers!