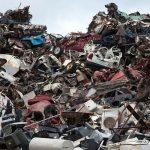 If you possess a large amount of scrap metal, you might think of the easiest and quickest way possible is best, very often people use an unlicensed scrap dealer to dispose of your metals.
Taking the easy choice could make a bigger impact on the environment and the economy, also it's illegal to sell scrap metals to an unlicensed dealer, so you are risking a fine and your reputation damaged also. It's vital for you to use a trusted scrap metal business to process your scrap metal waste.
Top reasons why you should always recycle your scrap metal
Environmental
Recycling your scrap metal is very important, disposing of metals in a non-sustainable way harms the environment and reduces our need for raw materials. Old metals that are re-used can also cut harmful emissions that affect the air we breathe.
Recycling metals cut CO2 harmful emissions by an estimated 200 million tons each year in Europe. For example, recycling steel can reduce pollution emitted by 86% into our atmosphere, 76% pollution in waters and also reduces 40% water consumption, Steel is 1 of many metals that are recycled.
Economy
Metal recycling is a big benefit to the UK economic status. The scrap metal industry contributes billions of pounds every year to the British economy in taxes and creates many jobs too. Recycling benefits everyone also as you can make money when selling scrap metal.
Sell your metals to a trusted metal dealer
You should always sell any scrap metal waste to a fully licensed and trusted scrap metal accredited dealer. After deciding to scrap your old metals, take them to a trusted dealer. The scrap metals dealers act from 2013 prohibits selling scrap metal for cash or disposing of metals to an unlicensed scrap business.
Trust
Find a reliable trusted scrap metal dealer to deal with your metal recycling. Things to look out for:
if they are a fully licensed business
accredited to any professional associations
online reviews of past customers
This will help you decide if you can rely on them when looking for a scrap metal recycler.
Value
To ensure you get the best value of money, recycle your metal with a legitimate business. Unlicensed scrap collectors will offer you lower money as they will offer you a quick sale and in cash too, both of these are breaking the law and the metal recycling rules state that any transaction must be cashless, via bank card or Bread card.
Only by recycling with a trusted industry business can you ensure that all the rules and regulations are being adhered to and in a lawful way.
Customer service
A trusted scrap metal business has a team of experts on hand like here at Reclamet. Our team is here to assist with any queries about your metal recycling. We offer professional and friendly customer service for Kent in the southeast of England.
Dealing with a legitimate company you will guarantee a dependable service from knowledge trained professionals.
Call Reclamet, The scrap metal specialists you can rely on:
Call: 01843 823554 / 01843 823224
Email: [email protected]