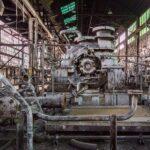 At Reclamet Limited, we offer a heavy plant and machinery dismantling and removal service. This service involves us working in industrial and factory type environments, removing large scale redundant industrial and commercial machinery from the site for recycling.
This specialist metal dismantling service can often take weeks to complete, dependent on the complexity and size of the job and involving a high degree of experience to remove the equipment following any safety legislation which may apply.
Reclamet are specialists in:
Total scrap metal removal and ethical recycling solutions
Heavy plant, equipment and machinery dismantling and removal
Manufacturing/Factory equipment dismantling and removal
Heating and ventilation dismantling and removal
M&E plant dismantling and removal
Moving and transporting heavy machinery
Removing and transporting generators
Using expert hot/cold metal cutting techniques
Providing free skips for metal waste
Limiting impact and disturbances to the surrounding working environment
Reclamet Limited realises that every working environment is different. Therefore we provide sensitive removal techniques of heavy machinery to limit any downtime to a bare minimum.
Furthermore, our experienced team members are specialists at safely decommissioning various redundant equipment, including water tanks and boilers, ready for removal and recycling at our center located in Birchington, Kent.
Have you already dismantled your heavy plant and machinery and need removal?
Our recycling center has the capacity and is ready to receive all types of ferrous and non-ferrous scrap metals, including:
Marine Engines
Light Iron
Cylinders
Aluminium
Mixed Alloy Sheet Aluminium
Copper Wire and Nodules
High Lead Bronze Solids and Borings
Steel Frames and Structures
Iron Frames and Structures
Trust in Kent's leading dismantling and removal experts
For over 30 years, Kent has been our service area, and we pride ourselves on possessing a thorough understanding of your specialist requirements. We also ensure we fully deliver removal and recycling solutions that completely meet your needs. Our highly trained team are ready at Reclamet Limited for all dismantling and removal challenges.
Call Reclamet today on:01843 800800 for a detailed quote
or Email: [email protected]