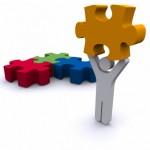 Successful organizations constantly strive to use IT as a business enabler. With software development at the heart of business differentiation, companies have long searched for software methodologies that combine aggressive time to market and top quality with lowest cost. Agile has proved to be successful in meeting enterprise goals. Agile adoption rate has accelerated over the past few years with Fortune 500 companies reporting gains such as 57% reduction is costs, 60% decline in defects and an astonishing 69% improvement in time to market.
Agile is different than traditional methodologies. Many organizations will fail to recognize its difference and, by underestimating the change management, will not reap the full benefits of the Agile project management and engineering practices.
The agile methodology focuses on:
Individuals and interactions over processes and tools
Working software over comprehensive documentation
Customer collaboration over contract negotiator
Responding to change over following a plan
The Litcom Approach
Litcom offers 2 Agile services that map to the specific needs of all organizations:
Agile adoption coaching: Litcom will implement the Agile methodologies and practices that best suit your organization by walking your teams through the steps required for a best possible ROI for your software development effort. Agile adoption coaching is very scalable and customized to your exact needs. Unique challenges are identified early and managed through a combination of on-site workshops, coaching, pilot management and other tools, in partnership with your organization.
Agile development resource sharing: Litcom will work with your product managers or business lines to implement your projects with our resources or with a combination of your team members and ours. You stay in control of your business requirements and the development team delivers a business-focused, high-quality software solution at the best possible speed. Litcom's Agile development services include team and infrastructure building, and the maintenance of all projects and products until retirement.
For more information, please contact us at info@litcom.ca.