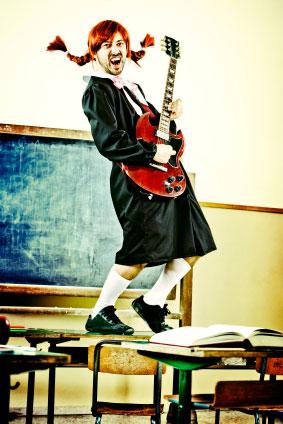 Photo courtesy of iStockphoto.
The philosophical theme for Realizing Resonance in May is Education, and I have not done a top 10 song list since last year, so here ya go. This is Realizing Resonance's Top 10 Songs about School.
While reading the lyrics in these songs one thing really stood out to me. Most of them either trivialize school or paint a negative picture of it. In "Smokin' in the Boys Room", "School", "Mutha (Don't Wanna Go to School Today)", and "School's Out" the themes are about the desires to avoid class, while "Hot for Teacher" is about attending class for reasons other than educational. In "Mad World", "Back to School (Mini Maggit)", and "The Happiest Days of Our Lives / Another Brick in the Wall, Pt. 2" the moods are darker, the institutions of education are presented as sinister or frightening. At least with "Wonderful World" we have a light-hearted love song that sings about education in a positive context, even if it is presented as a means to impressing a girl. The most positive spin on education comes from "The Future's So Bright, I Gotta Wear Shades", which is not saying too much, since I suspect the happy take on nuclear science classes is somewhat sarcastic.
I'm not sure what to make of the fact that my favorite songs about educational themes are fairly derogatory. Especially since I love school, or at least learning.
#10: "Smokin' in the Boys Room" by Mötley Crüe
"Sittin' in the classroom thinkin' it's a drag. Listening to the teacher rap-just ain't my bag. When two bells ring you know it's my cue. Gonna meet the boys on floor number 2. Smokin' in the boys room. Smokin' in the boys room. Teacher don't you fill me up with your rules, everybody knows that smokin' ain't allowed in school."
"Children waiting for the day they feel good, happy Birthday, happy Birthday. Made to feel the way that every child should, sit and listen, sit and listen. Went to school and I was very nervous, no one knew me, no one knew me. Hello teacher tell me what's my lesson, look right through me, look right through me."
#8: "Wonderful World" by Sam Cooke
"Now, I don't claim to be an A student, but I'm trying to be. For maybe by being an A student, baby, I can win your love for me. Don't know much about history. Don't know much biology. Don't know much about a science book. Don't know much about the French I took. But I do know that I love you, and I know that if you love me, too, what a wonderful world this would be."
#7: "School" by Nirvana
"Won't you believe it? It's just my luck. No recess! No recess! No recess! You're in high school again."
#6: "The Future's So Bright, I Gotta Wear Shades" by Timbuk 3
"I study nuclear science, I love my classes, I got a crazy teacher, he wears dark glasses. Things are going great, and they're only getting better. I'm doing all right, getting good grades. The future's so bright, I gotta wear shades. I've got a job waiting for my graduation. Fifty thou a year, buys a lot of beer. Things are going great, and they're only getting better. I'm doing all right, getting good grades. The future's so bright, I gotta wear shades."
#5: "Mutha (Don't Wanna Go to School Today)" by Extreme
"Mutha, don't wanna go to school today. I think I'd rather go outside and play. The teacher's always looking down with her disappointed frown, asking me to go sleep somewhere else."
#4: "Hot for Teacher" by Van Halen
"I think of all the education that I missed. But then my homework was never quite like this. Got it bad, got it bad, got it bad, I'm hot for teacher."
#3: "Back to School (Mini Maggit)" by Deftones
"Look back I sift through all the cliques, roaming the halls all year making me sick. While everyone's out trying to make the cut, what, when you think you know me, right, I switch it up. Behind the walls smokin' cigarettes and sippin' vodka. Hop a fence and catch a cab, ain't no one can stop us. Give me a break on some other sh…while you act like it's everything you've got. Push back the square now that you need her. But you don't so there you go. 'Cuz back in school we are the leaders of it all."
#2: "The Happiest Days of Our Lives / Another Brick in the Wall, Pt. 2" by Pink Floyd
"When we grew up and went to school there were certain teachers who would hurt the children in any way they could. By pouring their derision upon anything we did and exposing every weakness however carefully hidden by the kids. But in the town, it was well known when they got home at night, their fat and psychopathic wives would thrash them within inches of their lives. We don't need no education. We don't need no thought control. No dark sarcasm in the classroom. Teachers leave them kids alone."
#1: "School's Out" by Alice Cooper
"Well we got no class. And we got no principles. And we got no innocence. We can't even think of a word that rhymes. School's out for summer. School's out forever. School's been blown to pieces. No more pencils. No more books. No more teacher's dirty looks."