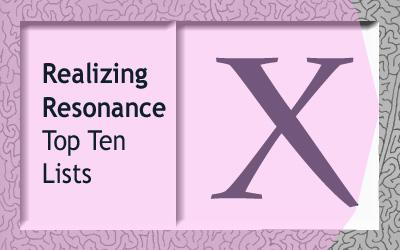 Given that the theme of the month is the Philosophy of Love, I thought it would be fun to do another top ten list with love songs. But I have added a twist. For my wife's birthday I gave her a guitar and some lessons to go along with it. In commemoration of this the list is not just love songs, but Realizing Resonance's Top 10 Hair Rock Love Songs with Awesome Guitar. Admittedly this has very little to do with Philosophy, so I will just say that love is the most powerful muse behind modern song writing, and the amount of ways that a love song can be written would appear to be infinite. Some philosophically minded person should construct and ontology of love songs.
#10: "Heaven" by Warrant
A great love song about knowing you have found your reason to be. The guitars of Joey Allen and Erik Turner are sweet and sugary on top of this nostalgic ballad.
#9: "Hysteria" by Def Leppard
A touching tune about falling so deep in love that it drives you crazy. Steve Clark and Phil Collen create an ambiance of romance with their guitar sound in this warm ode.
#8: "No One Like You" by Scorpions
An absolute classic about missing your baby while out on the road. Matthias Jabs and Rudolf Schenker provide the dual action guitar sting of love on this one.
#7: "Desperate" by Babylon A.D.
Two lonely people connect on account of their loneliness, creating the strongest of bonds. Danny De La Rosa lays down the smoking guitar, a soundtrack for meeting in a smoky bar.
#6: "Heaven Tonight" by Yngwie Malmsteen's Rising Force
Desire, desperation, falling in love, and the promise of paradise…at least for tonight. This has to be the fastest guitar in a poppy love song ever, but what else would you expect from Yngwie.
<a href="http://ws.amazon.com/widgets/q?ServiceVersion=20070822&MarketPlace=US&ID=V20070822%2FUS%2Frealizresona-20%2F8014%2Fc06ce4f4-2c81-4128-b038-df5f8cb76af9&Operation=NoScript">Amazon.com Widgets</a>
#5: "Love is on the Way" by Saigon Kick
Knowing its love by the look in the eyes. Jason Bieler gives us a delicate acoustic refrain and a Spanish guitar solo that is tender and passionate.
#4: "I Wanna Be With You" by Pretty Boy Floyd
Crushing on the new girl in school and having the guts to do something about it; this really was my favorite song in 8th grade. Kristy "Krash" Majors gives us the glam guitar gone sensitive in this syrupy power ballad.
#3: "More Than Words" by Extreme
Proving your love takes more than eloquent soliloquy, and it is as simple as that. Although not in his virtuoso mode, Nuno Bettencourt shows us that every now and then a guitar god can also sing beautiful vocal harmonies.
#2: "Radar Love" by White Lion
Speeding home when your baby tells you she needs you from far away without speaking. Vito Bratta captivates with the soft, silky, and sexy guitar caresses that haunt this impressive Golden Earring cover.
#1: "Love Song" by Tesla
Love will find a way. Frankie Hannon and Tommy Skeotch's acoustic intro alone is enough to tickle the soul in this epic love song.