I do not know if my basic reading system is framed by a talent, luck or wealth of experience, but dozens of times visiting cities for the first time, not having a clue as to where a good coffee might be located, I must rely on what I read through a window. Wherever and whenever I decided to enter, I was satisfied with their coffee offerings. Only once - just a few months ago - my choice to enter turned out to be a bad one. It was in Soho, New York, where I did not feel like walking to the next coffee spot I am familiar with, and spotted a new locality with a respectable coffee machine installed on a convincing spot. My nose told me to keep going, so I did. As I turned the corner, I chose to give it a chance and safe myself a walk and time, so I returned an entered. My cappuccino was served in the wrong cup - making it an unbalanced drink - and several other things did not make me happy.
A dissection of my system of analysis when trying to decide where and where not to enter, could be safely broken down into a short list of aspects that could be observed through the window of the establishment. Namely, the interior architecture, the décor, even sometimes a glance at the baristi and staff, in general, an attentive viewing of the atmosphere.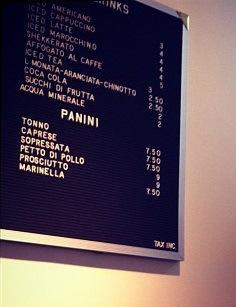 Everything found in a space is filled with expressions about the intended mindset: the inclination to nature, to artificiality, towards fastness, dwelling, or mere practical effectiveness, etc. I must read signs of dedication with a purpose and a demanding attitude to quality somewhat clearly, in order to enter. If we care, we are attentive and if attentive, we see clear signs, at least enough to connect several dots properly.
I believe that seeing a framed print of a Norman Rockwell in a predominant space of a coffee shop or house will attract a certain crowd and make a certain statement about what the atmosphere and thus what the offered product might deliver. When I see plastic flowers and plants as decoration, I do not read dedication.
Zibetto is an Italian-style espresso bar I saw firstly on my regular visits to the former De La Concha Smoke Lounge (now Davidoff of Geneva) on New York's Sixth Avenue. As we know from the traditional Italian style of earlier days, the menu is displayed on a black board with a textile surface, on which individual white letters could be slid into any desired position.
Right next to the Nat Sherman Townhouse, where I have become a regular in the last few months, there is another Zibetto Espresso Bar. Towards the end of the long and narrow space, on the back wall there is a simple but expressive mural, designed and produced by Jonas Lundgren, a student at Parsons School of Design in New York.
A space should be a coherent picture. The quality of the product sold must be reflected on the decoration, furniture, face and fashion of the staff, even - when possible - in the architecture. Seeing a mural that suggests a high level of dedication and a fair amount of professionalism, invites me in and informs me greatly about what I could expect.