Popular reading App 'Read It Later' has hit 4 million registered users. What this app does is simple, adds the link to 'Read it later' and allows you of fetch and read the article/page anytime later you want, it's better than bookmarking as it fetches and saves the content for you on your device. The app has been doing this since 2007 and still is one the most favorite reading App for all mobile users.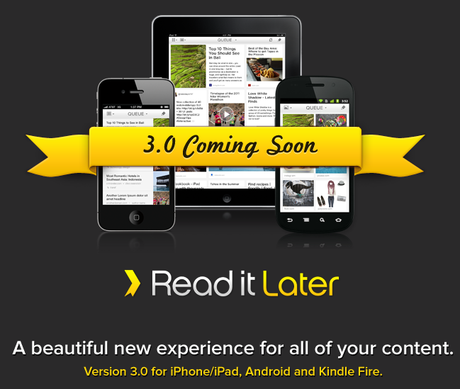 There are other apps competing the same category like Instapaper but what 'Read it Later' does is it saves the content and presents it to you in a very readable way saving all the content including the images, text and videos.
With 4 million registered users, 'Read it Later' is going through some awesome changes, the first major change is the web app which already got updated and the second major change is revamping the mobile app and spreading it to all the platforms.
Read it Later soon would be updated to Version 3.0 and would be available for iPhone/iPad/iPod Touch, Android and Kindle Fire.
Sign Up now and get it for your platform.