My goal for the craft show this year was to re-purpose as much as possible.  This seemed quite impossible at first because I had no inspiration whatsoever!   I headed down to the basement to dig through my craft bins to see what could inspire me and possibly be turned into a masterpiece. First round I came back up with some old Christmas wreaths and a set of decorative boxes a gift came in a few years back.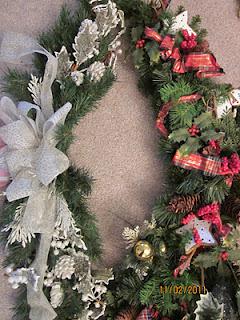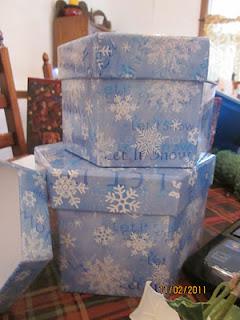 Apparently that was all I needed to get the creative juices flowing!  I cut apart the wreaths and made each decorative box into an arrangement.  Second trip to the basement and I found some Christmas flowers and small decor I had purchased at a garage sale earlier this year.  Voila!  I had 3 cute arrangements ready to go without having to buy any new materials.  Perfect!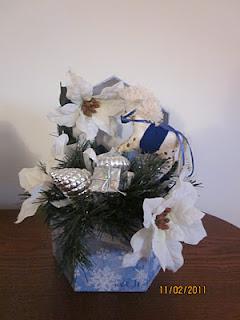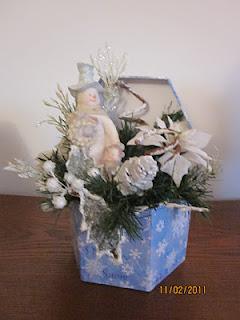 Since the muse was now at work, I headed back to the basement to see what other treasures I could find.  On a shelf was an angel candle holder that has been collecting dust over the years.  I tried to sell the candle holder in several garage sales with no luck.  Maybe it will serve a better purpose as a beautiful winter centerpiece!  The old Christmas wreaths were cut up some more and added to the candle holder, along with some pinecones and red hydrangea.  So far, this is my favorite piece I made and is sitting on my living room end table.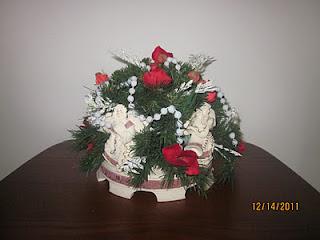 Overall I created 12 repurposed arrangements from random material found in my basement.  I sold about half of them at the craft show, kept 2 for myself, donated one to a church and will give some as gifts!  Not a bad start to frugal crafting.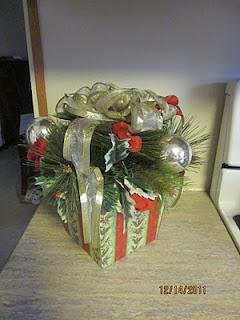 Enjoy your day!