I've reached a difficult decision this week - not to go to Greece this summer on holiday (the first miss in years). It's been a tough call, because the temptation to go is huge.
It's not that Greece isn't a safe place. Compared to the UK's 304,000 cases and 46,000 deaths (both conservative figures as we know), Greece had only just over 4,000 cases and 206 deaths - yes, that few, you didn't read it wrong.
More people have died of coronavirus in Blackpool & the Fylde than in the whole of Greece, so I'd feel perfectly safe if I were on some sun-drenched Aegean island right now. The issues are more to do with travelling, the unpredictability of airlines and flights, doubts over the validity of holiday insurance. On balance, it seems wisest to stay in the jewel of the north this summer, to stock up on retsina, work my way through some Greek recipe books and hope we get a decent run of weather this August and September.
You may wonder what all of that has to do with collections and it's simply this, I've been 'collecting' Greek destinations for over forty years. It's the country I've visited more widely and more often than any other. I nearly retired to live there; it's almost a spiritual home. From each place I've visited I've brought back not only the happiest of memories and abundant photographs but also local pottery, just one of the things I collect.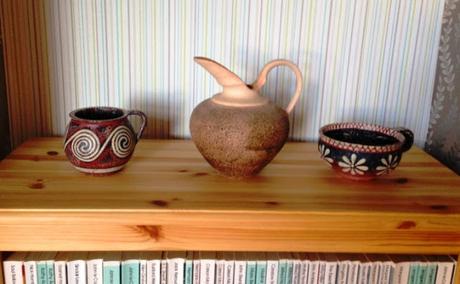 Pottery from Crete and Paros and Rhodes
Strangely enough, I've also got a collection of hand-blown Finnish glassware, though I've never been to Finland. Less unusual, if you know my musical tastes, is my collection of West Coast concert posters from the psychedelic sixties, but then I have been to San Francisco on several occasion in reality, and many more times in my mind.
Where did it all start, this collecting lark? With stamps probably, as a boy; and those picture card series of birds and flowers and footballers that one could collect in packets of PG an Ty-phoo tea... all gone many decades since.
Of course, as you'd expect, I have other, more mainstream collections, of books and records, CDs and DVDs, football programmes and music magazines. I've even got an anorak.
I've made one other decision this week. From time to time readers of the blog have commented asking if I've published a book of poetry. No I haven't, not even a pamphlet, just occasional pieces in anthologies. So instead of a Greek holiday this year I'm going to fund publication of a selection of my poems, my first collection if you like - though there won't necessarily be a second one! There, I've said it, a declaration of intent, so I've got to do it.
I've not written a poem for this blog, but I'm working on a Rhapsody,
ῥαψῳδός
 (rhapsodos) in Greek, meaning the stitching of a lyric together - based on lines and ideas I've been collecting in my notebooks for a while. Instead, I'll sign off today with this photograph.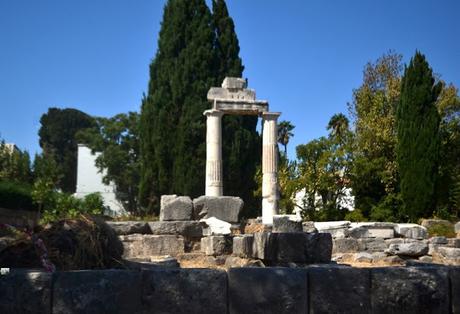 Temple ruins on beautiful Kos
Thanks very much for reading. Have a good week and if you're a collector, happy collecting. S ;-)
Email This
BlogThis!
Share to Twitter
Share to Facebook
Reactions: