If you hadn't spotted already from my tweets yesterday evening as the show was live on air, then I am pleased to announce that I am the blog ambassador for STV's 'RBS - Finding Scotland's Real Heroes' Young Real Hero category.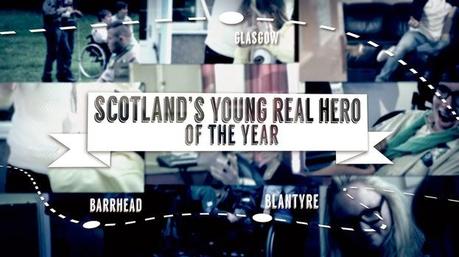 As part of my involvement with the programme, I was invited to the Awards Ceremony at the RBS Headquarters in Edinburgh which was filmed two weeks before it was aired. We were asked to keep schtum about who won and we weren't allowed to share any details, until now that is!
The STV series 'RBS - Finding Scotland's Real Heroes', presented by Carol Smillie and sponsored by RBS, recognises all the amazing work that local people are undertaking in their communities across Scotland. 
The category of Scotland's Young Real Hero of the Year celebrates the hard work and dedication of young people.
The nominees were:
The Volunteers of the Glasgow 77th (Disabled) Scout Group, who pair up one-one-one with members of the Scout group for activities, adventure and personal development. 
Danii McArthur, the 18 year old young carer who looks after her ill mother and two little sisters
Mitchell Kinnen, the 18 year old who set up Bright Lights Theatre Group in Blantyre
I had rushed to Edinburgh straight from work, where I had thrown on my little black dress
(with Spanx underneath practically from head to toe!)
in the ladies before jumping in my car.
Time to hit the road!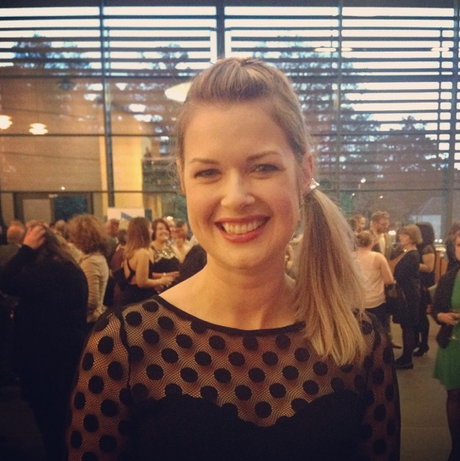 In the foyer
I arrived to a red carpet entrance & was whisked off to the VIP area for drinks & canapés. My fellow bloggers were lovely and it was nice to chat to everyone as we enjoyed the pre-show atmosphere. There was also an amazing buffet for us to enjoy before the filming started. I had meatballs and cous cous. Yum!
There were a few Scottish celebs mingling at the event... Taggart star Alex Norton, Bill Paterson, Des Clarke, The Riverside Show presenters David Farrell and Jennifer Reoch, Nicholas McDonald from X Factor.
It was lovely to meet Wee Jenny Cook too & we said Hi very briefly before taking to our seats. Jenny raises money for Yorkhill and the Catherine McEwan Foundation & she has Crohn's Disease like me. I was delighted when she won her category - she's an inspiration.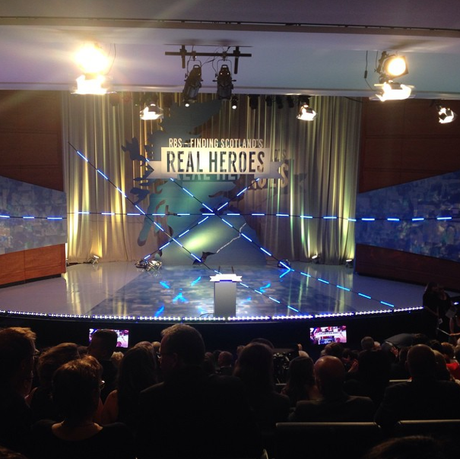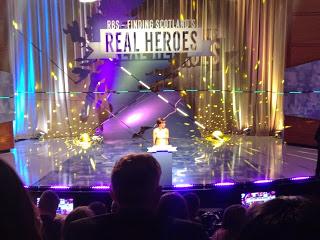 I thoroughly enjoyed the whole experience. This was my first time as part of a studio audience and it was interesting to see what goes on behind the camera. The stage manager kept everyone right - we had to practice our applause for example and re-record sections when the people on stage fluffed their lines.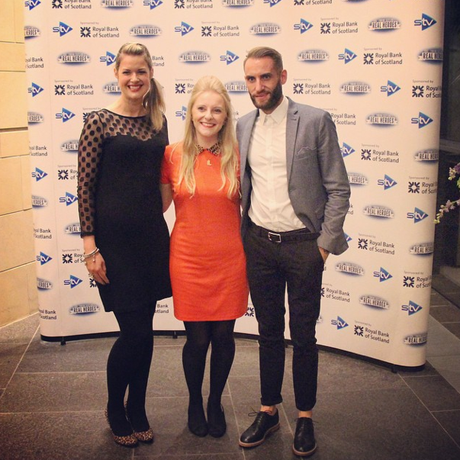 With two fellow bloggers: Lianne from Ruby Ruby Slippers and John from The Everyday Man
Carol had been tweeting on the night of the recording, and she tweeted me back which made me smile :-)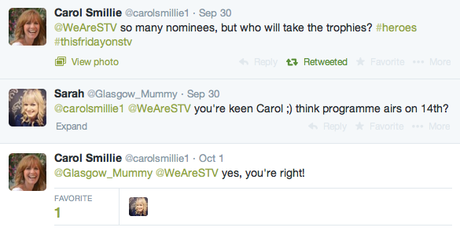 If you didn't catch the show last night, then fear not, you can catch up here. Unfortunately there was only one trophy for each category, although all the nominees were winners in my eyes. The winner of my category was The Volunteers of the Glasgow 77th (Disabled) Scout Group. 
I managed to chat to the group after the show had ended, and as expected they were delighted with the result. They were nominated for the award by one of the parents, and it meant so much to them to be recognised and appreciated for what they do. I'll be visiting their HQ in the very near future and will report back with a full interview.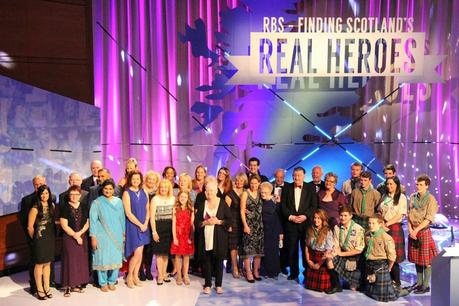 The winners - huge congratulations to you all