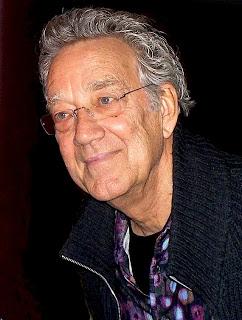 Sad, sad news. Last night, Raymond Daniel Manzarek, founding member of The Doors, has died of cancer, aged 74. This is the official statement from his Facebook page:
David Dutkowski here. Ray's webmaster and personal archivist. It is with such a heavy heart that I post this today..
Ray passed away today at 12:31PM PT at the RoMed Clinic in Rosenheim, Germany after a lengthy battle with bile duct cancer. He was 74. At the time of his passing, he was surrounded by his wife Dorothy Manzarek, and his brothers Rick and James Manczarek.
"I was deeply saddened to hear about the passing of my friend and bandmate Ray Manzarek today," said Krieger. "I'm just glad to have been able to have played Doors songs with him for the last decade. Ray was a huge part of my life and I will always miss him."
Manzarek is survived by his wife Dorothy, brothers Rick and James Manczarek, son Pablo Manzarek, Pablo's wife Sharmin and their three children Noah, Apollo and Camille. Funeral arrangements are pending. The family asks that their privacy be respected at this difficult time. In lieu of flowers, please make a memoriam donation in Ray Manzarek's name at www.standup2cancer.org
The following is taken from Robby Krieger's page:
Ray Manzarek and Jim Morrison were the two most unusual people I have ever known. It didn't take long to realize this about Jim. He was obviously a genius, and he worked hard at being different. Did a good job of it too. Ray on the other hand, was a late bloomer. I guess it took all of his [and our ] energies to keep Jim in line. The real Ray didn't appear until after Jim was gone. He was const

antly doing projects with different people, producing, playing with different poets. He always saw the good side of people, and that was his genius. He was the only guy at UCLA that saw something good about Jim. Everyone else thought of Jim as a phony or worse. He saw the genius of Jim's words and the rest is history. Ray sure did influence my life, and I hope yours to. I'll always be grateful to John for introducing me to Ray and Jim, and I'll never forget them. - Robby Krieger, May 20, 2013
This is a statement from John Densmore:
There was no keyboard player on the planet more appropriate to support Jim Morrison's words. Ray, I felt totally in sync with you musically. It was like we were of one mind, holding down the foundation for Robby and Jim to float on top of. I will miss my musical brother.
What else to say? A man that changed the history of music broke through to the other side, joining his friend Jim after more than forty years. This evening, a great concert will be performed somehwere beyond the Doors of Perception. Thank you Ray for all you've given to mankind.