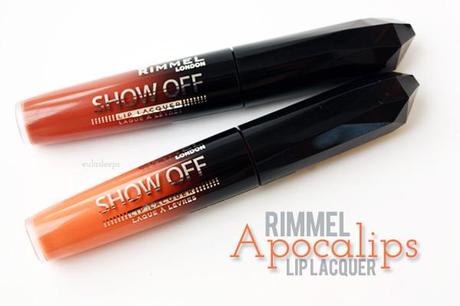 Rimmel Apocalips (known as "Show Off") lip lacquers were quite the buzz last summer, and now I know why. These liquid lipsticks are highly pigmented, shiny, and fairly long-wearing -- high-end qualities at a drugstore price of $4.99! You can't beat that. I picked up
Comet
and
Luna
; the cosmic names are a play on the Apocalips pun. I may be wrong but I think these are Walgreens exclusives. Swatches and more after the jump!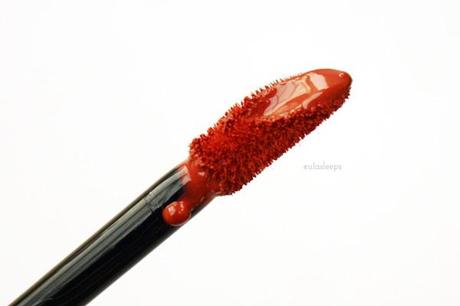 These things are incredibly opaque with one layer. I assume they're called lacquers because they're supposed to be long-wearing, and that they are. I've had
Comet
last 6 hours on me (without meals). Even after a burrito (mmm,
burritos
...) it left a stain, nothing a little gloss or balm didn't fix. These do transfer though, so I like to blot after application. Blotting also leaves it a matte finish, which I prefer, and removes the waxy scent that I dislike.
The applicator is different from your usual doe foot because it has a little well, which holds more product. One dip is thus more than enough for your lips. I also like that the caps have cuts in them
like diamonds
 for better grip. Ergonomics, yes, they have applications in makeup.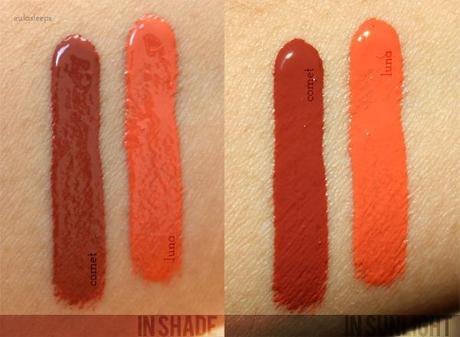 I only got 2 colors, because as you may know I am not a lipstick fan. US shades differ somewhat from their original UK counterpart, as you can
read here
. You can see swatches of all
UK shades here
.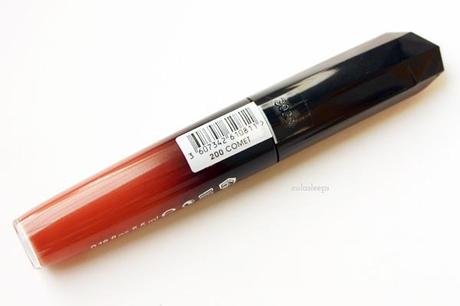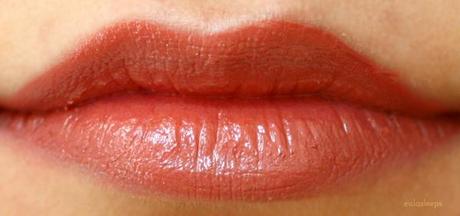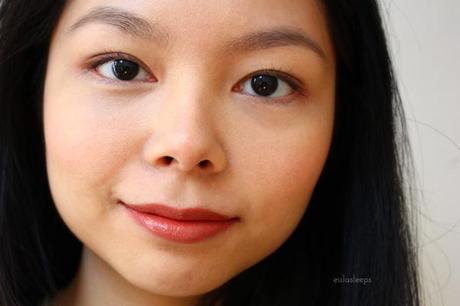 Comet
is a pinky brown that would be a MLBB shade on deeper tones. It leans warm but from swatches I've seen online, it that would look great with any complexion. This darker shade of nude makes me look more mature
so people will take me seriously
.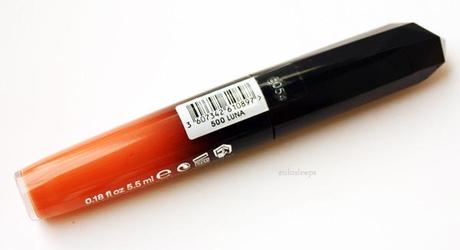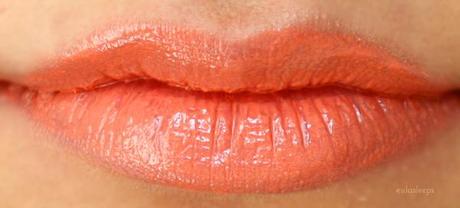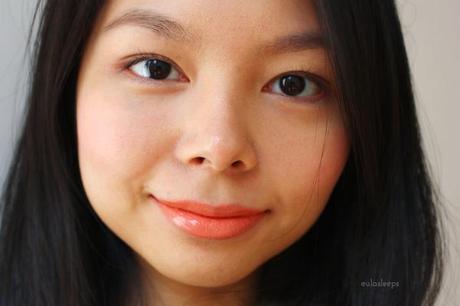 I had hoped Luna would be a lovely coral, but it's simply too light for me. It's a peachy pale orange that would look best on fair complexions in the spring and summer. You can see though how it warms the face and instantly makes me look younger. To make it more wearable, I layer it with
Clinique Chubby Stick Intense in Curviest Caramel
, as seen below.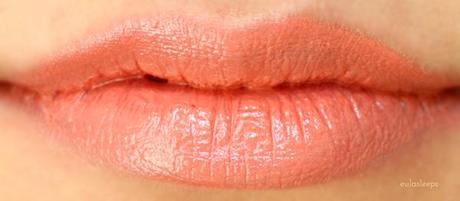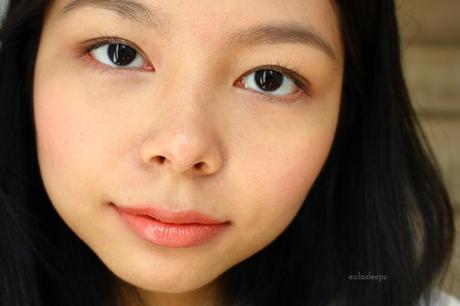 The deeper Curviest Caramel tones down the intensity of the orange for a nicely coral look.
These lacquers, especially the darker shades, don't sink into the lines of the lips, and I find I can get away wearing them with chapped lips. Which I LOVE, because my lips are perpetually dry.
Here's a tip -- how to tell if your Rimmel London Show Off aka Apocalips lip lacquer is fresh: on first opening, the clear glass fills up with the lacquer.
The Wrap
Pros
Opaque, long-wearing lip lacquers with thoughtful packaging at a great price
Cons
Transfers easily
Rimmel London Show Off Lip Lacquers
retail for
$4.99 USD
at Walgreens. They're often buy-on-get-one-at-50%-off, so watch out for those deals!