An excellent breakfast recipe. Easy, quick and simple dish to make out of semolina and a few basic ingredients. I love all Upma varieties

be

it Sooji Upma, bread Upma or

idli

Upma. I have learnt this recipe from my mom. She makes the world

best

upma

. You can eat it with fresh chutney or can eat it like this only. Enjoy !!!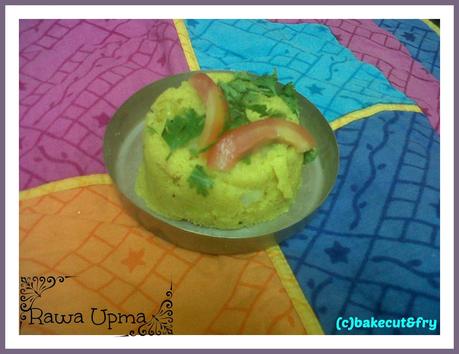 Servings

:

2 persons
Preparation time : 5-10 mins
Cooking time : 10-15 mins
Ingredients :
Semolina (Sooji) : 1 cup
Mustard seeds : 1/4 tsp 
Urad daal : 1 tsp 
Curry
leaves 4-5 leaves
Green
chili (finely chopped) : 1
Green peas : 1/4th cup
Potato (diced) : 1 medium
Turmeric powder - 1/2 tsp
Lemon juice :
1-2 tsp
Sugar :
1/4 tsp
Salt : 1/2 tsp 
Oil
: 1 tbsp
Water : 2- 2 1/2 cup 
Coriander leaves : for garnish
Method :
1. In a kadhai or a deep bottom pan, dry roast semolina (sooji) for about 3-4 mins till nice aroma rises and it will become light golden in color. Set aside.
2. Heat oil in a kadhai, add mustard seeds, curry leaves (crushed with your hands), urad

daal

and green chili. Saute them.
3. Add potato, peas, turmeric powder and salt. Cover it with a lid and cook it till potatoes are cooked and soft.
4. Now add water, sugar and lemon juice. Cook it till

water

comes to a boil.
5. Add semolina (

sooji

) and stir continuously to avoid any lumps.
6. Cook it for one or two

minutes

. Mix it well.
6. Garnish with coriander leaves and tomatoes.
7. Serve hot
Handy Tips :
# To make it more rich in taste, you can add fried cashewnuts.