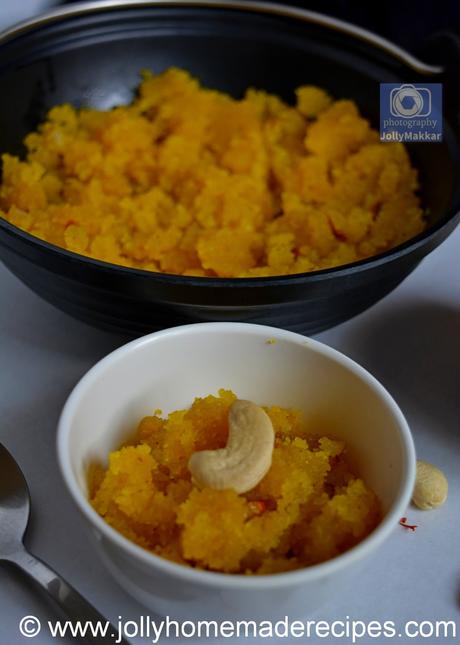 Rava Kesari Bath Recipe with step by step photos.
It is a popular South-Indian sweet dish made from semolina or sooji or rava is mainly prepared for breakfast or during festival times. It is a simple sweet recipe prepared with basic ingredients like rava, sugar, water, ghee and saffron or yellow food color. 
I have used both a pinch of food color and saffron to give natural kesari(yellowish color tone) to the pudding. 
The optional flavorings and colorants are also added. It is topped with dry fruits like chopped cashews, almonds and some raisins which gives a nice crunchy effect to it.
What is Rava Kesari ?
The term "Rava Kesari" means sooji pudding which is flavoured with saffron and yellowish color. Since the dish is made with rava/sooji and has an orange color. The word "Kesari" indicates yellow color tones and in some instance also means Saffron, which is called KESAR.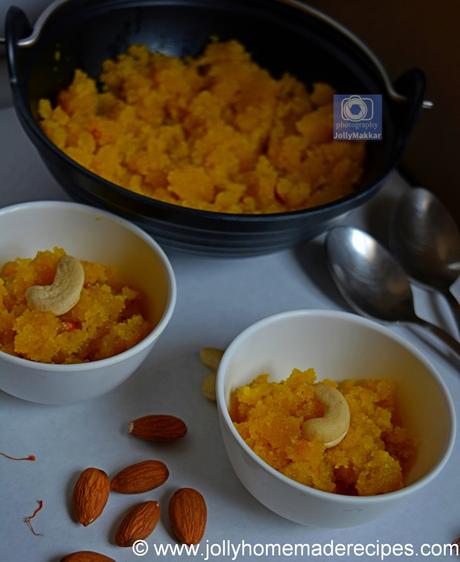 Rava kesari bath is similar to Sooji Halwa. In karnataka this is called kesari bath and In Maharashtra it's called Sheera, but that one made without color. 
Wishing all my dear ones a very Happy Dussehra 🙏🙏 May the Goddess give u all strength to face problems & help you succeed in life!!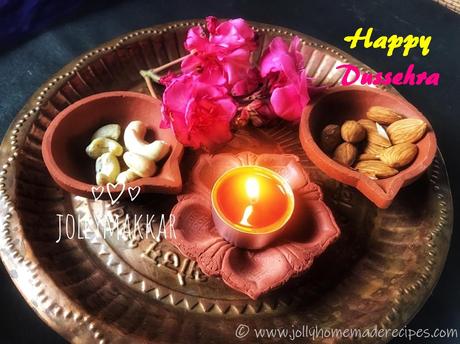 Rava Kesari is a very popular breakfast in Karnataka served along with khara bath. The combination of khara bath and Rava Kesari is known as chow-chow bath. I had this Rava Kesari first time in Bangalore, when I came here first time after my marriage, I had this kesari halwa with khara bath & coriander coconut chutney in breakfast with my tea. 
This is one of the Indian perfect desert and easy and quick kesari halwa recipe, so you don't need any excuse or occasion to make it.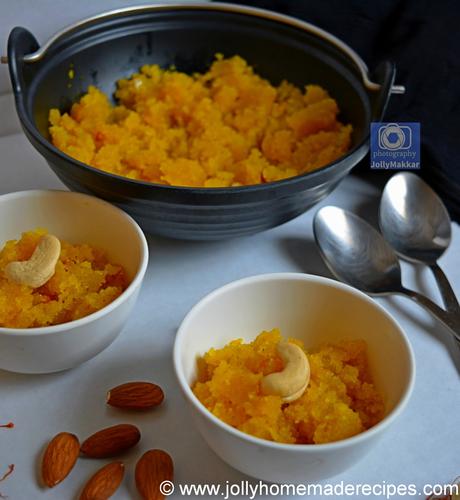 Rava kesari halwa is often made for an auspicious occasion or a pooja, it could also be a festive occasion like Diwali, Dussehra, Ganesha chaturthi, holi or a religious pooja offered as a prasad conducted in my home or just want to have something sweet. 
Instead of water you can also used milk. I personally prefer water, or you can take 1:1 proportion of milk and water. Addition of milk, sweet make more heavy.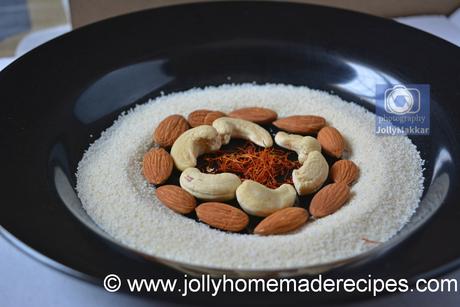 Let's begin the step by step recipe of Rava Kesari recipe with pictures.
Cuisine : Sweet dish/Prasad
Preparation Time : 5 minutes
Cook Time : 20 minutes
Total Time : 25 minutes
Serving : 4 people
Author : Jolly Makkar
Ingredients :
Fine rava/Chiroti sooji - 1 cup 
Sugar - 3/4 cup or 1 cup (adjust according to your sweetness)
Water - 3 cup
Desi ghee - 1/2 cup
Cardamom Pods /powder - 2 (skin and seeds)/ 1/2 tsp
Chopped Almonds - 4 tablespoons 
Cashews - 2 tablespoons 
A Pinch of Yellow/
Orange
 Food Colour
A pinch of saffron
Preparation Method :
1. Heat desi ghee in a heavy bottom pan or kadai, fry cashews until golden in color.
2. In the same ghee add the rava or sooji along roast till nice aroma comes out.
3. Roast the rava (semolina) and roast till you can see the ghee getting separated from the rava and the color of the rava change its color become slightly brown. This takes approx 7-8 minutes on a low flame.

4. In meanwhile, dissolve sugar, water, food color and saffron in a another pan. Crush the cardamom pods and add it sugar syrup. Keep on flame and allow it to come to a boil.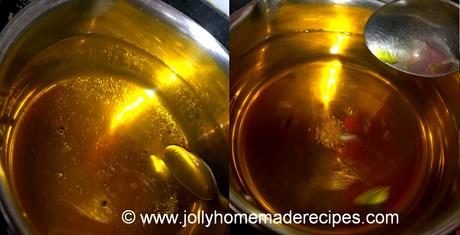 5. Pour the sugar-saffron solution in the ghee-rava mixture slowly with continuous stirring make sure that there no lumps are formed.
6. The rava or sooji will absorb the water and the mixture will thicken. Add finely chopped almond or roasted cashew nuts in rava kesari.

7.  
Stir till the mixture starts to leave the sides of the pan. 
Switch off and then cover the pan for 5 minutes just to allow the rava kesari to steam. 
8. Serve hot or warm rava kesari as it is. You can also serve rava kesari as a side sweet dish.

Important Notes
1> Roasting rava properly to get the best texture. So, take your time, be patient and roast over medium low heat stirring constantly till you get nice aroma and slight color change. Do not burn or over roast.
2> You can also replace orange food color with a yellow food color. 
Variation: You can also substitute the water with same amount of milk and it also gives a rich & creamy texture. Or use half water and half milk which also gives the perfect balance of richness and creaminess.
Check the YouTube video of Rava Kesari Bath
If you are looking for more sweet recipes then do check :-
rich and creamy rice kheerkesar phirnikesari rice kheer
saffron sweet rice 
motichoor ladoo
apple almond halwaDid you make this recipe?
Tag #jollyhomemaderecipes or follow us for more updates on 
Facebook 
| 
Instagram 
| 
Pinterest 
| 
Twitter
With your pictures, I would love to see your delish creations!
PIN IT

Later for future use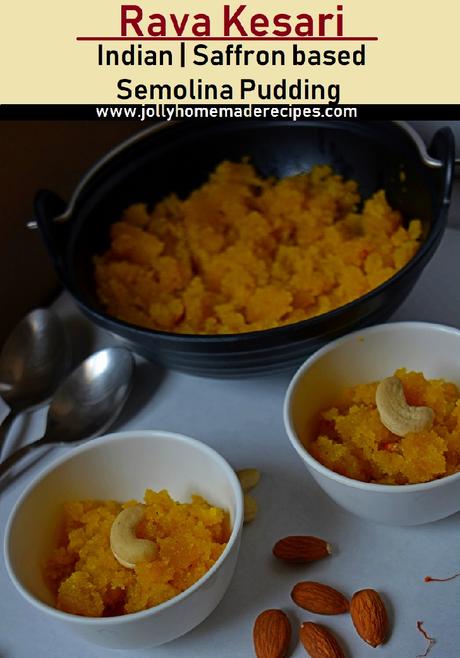 Happy Cooking & Enjoy 😊😊