Rattan Garden Furniture is the perfect all weather option for your garden, and comes in a range of loungers, dining sets, and sofa sets here at Gardencentreshopping, as well as rattan benches, and chairs.
We stock two colours of rattan: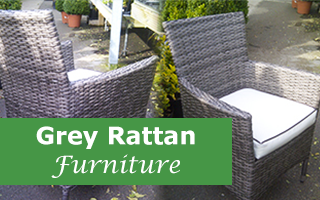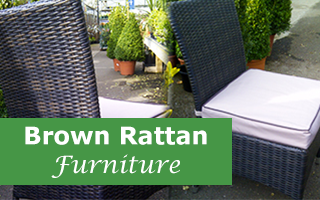 All of the wicker furniture sold on our site is also sold in our family owned garden center. It is 100% all weather, zero maintenance furniture, that you can leave out 365 days a year.
We also stock a fantastic range of: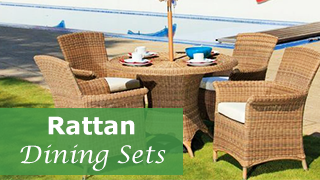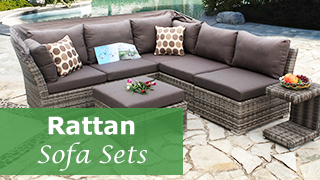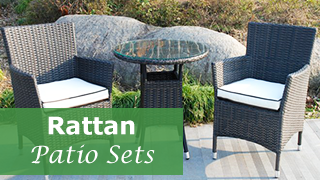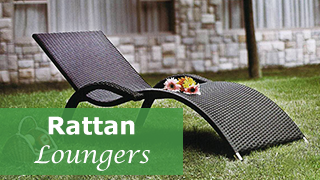 Grey Rattan Furniture

Grey coloured rattan looks fantastic on your patio area, and we have a wide range of dining sets for you to buy online. Whether you need a 4 seater round set for you and the family, or a larger 8 seater set when you have friends over, we have the perfect set for you.
Wicker furniture looks great in this light gray colour, and will easily fit into anyones garden style.
Dining sets start from only £460!
To see the full range of gray coloured rattan furniture, click here.
Brown Rattan Furniture

We have stocked brown rattan furniture in our garden center for over 8 years now, and it's becoming our most popular range.  With a huge range of dining sets (including oval, round, and rectangular tables), sofa sets, and bistro sets, you can find the perfect set for your home.
The multi-brown (or mixed brown) coloured wicker, nicely blends in with the natural colours of your garden.
You can find all of our brown rattan garden furniture here.
Rattan Dining Sets

We have a large range of rattan dining table and chair sets for you to choose from, perfect for eating al fresco in the summer sunshine.
You can choose between brown, grey, and golden coloured rattan wicker, between 2, 4, 6, and 8 seater sets, in various styles to suite your needs.
And of course it is 100% all weather, zero maintenance garden furniture, that you can leave outside all year long.
Click here to see our full rattan dining set range.
Rattan Sofa Sets

Garden relaxing has never been more comfortable, than with our beautiful range of rattan garden sofa and lounge sets.  Various shapes and sizes available, in black, grey, or golden coloured rattan.
Many come with interchangeable pieces, so you can change the shape of your sofa at your leisure!
You can see the full range here, or view our best selling Chicago Sofa set (in Black or Golden Rattan).
Rattan Patio Sets

Perfect for a smaller patio area, these rattan bistro sets give you a comfortable quiet spot to enjoy breakfast outside, or share a drink with a loved one in the evening.
They come in various colours and styles, and are 100% all weather.
See the full range of rattan patio bistro sets here.
Rattan Sun Loungers

Whether you're looking for a light snooze in the sun, or somewhere to lean back and enjoy your favorite new book, you will love our new range of rattan sun loungers available to buy online.
Available in dark, or light coloured rattan, these maintenance free rattan loungers start at only £125, all available for home delivery.
You can shop our full range of wicker sun loungers here.
Other Varieties of Rattan Furniture
Can't see the rattan furniture you were looking for?
We have a large range of furniture in store, so contact us to enquire if we have the piece you are looking for, either via email [email protected], or via phone 01455 274049.
You could also checkout, Cozy Bay Rattan Furniture, our Reclining Rattan Furniture range, or our best selling all weather bench range.