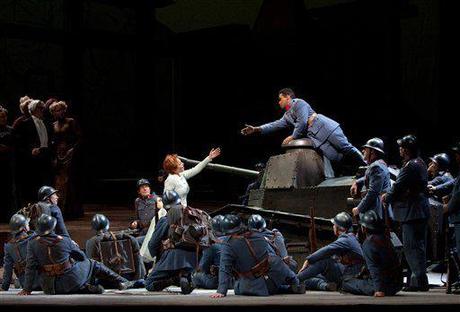 Machaidze, Brownlee, ensemble (c) Met Opera/Marty Sohl
The good old Twenty-First is back at the Met this winter, lifting spirits as always. Laurent Pelly's production flirts with kitsch, but I'm fond of it; its slightly off-kilter whimsy is a good fit for Donizetti's lighthearted, lightly caricatured hijinks. Yves Abel led the orchestra this time around, in a reading which was sympathetic to the characters' emotional troubles, but always seemed to know there was another joke around the corner. Maurizio Muraro reprised his turn as Sulpice, and was joined by Ann Murray as the Marquise, Lawrence Brownlee's ardent Tonio, and Nino Machaidze as the titular heroine. Kiri Te Kanawa was present as an irrepressible Duchesse de Krakenthorp.
The indispensable Met chorus did valiant service, both as the anxious peasantry of the opening scenes, and as Marie's regiment of fathers, swaggering in comradely unison. Their singing was strong, and their affection for their adopted daughter clear. James Courtney, as the Marquise's long-suffering servant Hortensius, turned in a comic performance at which I couldn't help but chuckle. Kiri Te Kanawa's Duchesse accepted the homages of audience and cast alike as no more than her due, was superbly haughty in deliberately twangy French, and sang the aubade from Puccini's
Edgar
, "O fior del giorno." Te Kanawa and Murray were delightful in the scenes between the Marquise and Duchess. Ann Murray, in fact, turned the Marquise into something of a highlight, with aristocratic elegance overlaid with the absurdity of Hyacinth Bucket. She contributed, also, beautifully fluid singing (in excellent French,) with her
gravi
used to comic effect.
Maurizio Muraro's Sulpice was a pleasure, with self-aware wit and solid singing. He made the sergeant very humane without sacrificing his humor, sang with vocal flair, and had good chemistry with Machaidze. Machaidze, as the dauntless Marie, gave a vocally and physically energetic performance. She dispatched the demanding coloratura with confidence, though her tone had a tendency to turn edgy at the top. "Il faut partir" was especially touching, and Machaidze's was a very commendable performance which surpassed my expectations. The standout of the evening for me, however, was Lawrence Brownlee, as her somewhat hapless suitor. This was my first time hearing Brownlee live, and I was delighted with his rich, gleaming tone. He acted a sweetly impulsive, naive Tonio, who won over Marie and her fathers, and the audience, by force of sheer charm. Charm, and those famous high Cs, which were spun out triumphantly. ("We love you!" screamed a young woman two rows behind me in the resulting furor of applause.) He was charming, however, throughout, and the reunions and reconciliations of the finale delighted the audience no less than the guests assembled at Berkenfield.