I've been making this recipe for several years now around St. Patrick's Day and everyone enjoys it. I'd call it a hit. This soda bread has a new twist on it- I add frozen berries (we love raspberries) and bake it up. This year I made it in the traditional bread pan and in muffin cups!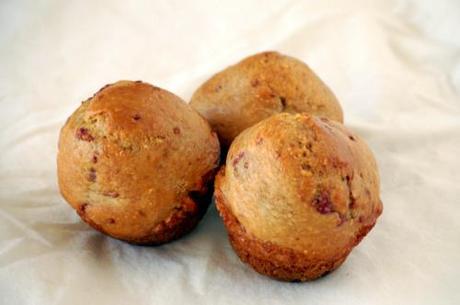 Granola Ginger's Raspberry Soda Bread adapted from Irish Soda Bread I at All Recipes.com
Ingredients
4 cups all-purpose flour
1 cup white sugar
1 teaspoon baking soda
2 teaspoons baking powder
1/2 teaspoon salt
3 eggs
1 pint sour cream
1-3 Tbs of milk or half in half if the batter is too think
1 heaping cup frozen raspberries (fresh will not hold up for mixing)
Directions
Preheat oven to 325 degrees Grease two 8x4 inch loaf pans or muffins tins.
Mix the flour, sugar, baking soda, baking powder and salt. Add the eggs, sour cream and milk or half and half in necessary and mix until just combined. Gently fold in frozen raspberries. Distribute batter in the greased pans.
Allow the batter to sit for 20 min before baking.
Bake at 325 degrees for 1 hour. Muffins may take 10-15 min less.
Allow the bread rest and cool before serving.